Topic: day trip
Who would get up at 5:00am to travel from Springfield, Tennessee to Trenton, Kentucky for a street festival? I would—and so would my 86-year-old mother!
That's exactly what happened Saturday when the Heart of Trenton Main Street Festival took place. We arrived just after it began around 8:00am. At least, that was the announced time, but we were late! Hundreds of people were already parked along the long street of beautiful houses and shops that grace Trenton. Workers had been in place since 4:30am that morning and the fun was in high gear.
«Read the rest of this article»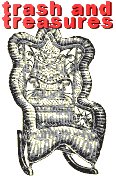 Cross Plains, TN – Trash and Treasures celebrated its 25th Anniversary this year. This yard sale extravaganza  takes place in Cross Plains, a small town on Route 25 East, about 15 miles from Springfield. If you've never visited the town, you don't know what a great time you've missed.
On Friday and Saturday during the last weekend in June, the town becomes a yard sale junkie's paradise. Up and down both sides of the main street of Cross Plains are scores of yard sales with everything from furniture to tiny collectibles.
You can find wooden ironing boards, toys, clothing, books, glassware, flowering plants, sorghum, canned jams and jellies, antiques, lemonade, bird houses, mounted deer heads, knives, lamps, cars, pedal cars, old and new tools, dishes, crystal, jewelry, handmade cards, stationery, barbecue, baked goods, and almost anything else you can think of! «Read the rest of this article»

If you haven't discovered the delights of shopping in the Guthrie, Kentucky area, you need to get yourself on the road this week. You have to go to Schlabach's Bakery, first so that you get a good selection because they sell out quickly; the next stop on your trip should be Pencham's Tack Store; followed by The Flower Pot; and the wonderful Country Pantry, one of the area's best kept secrets!
Schlabach's Bakery (6255 Guthrie Road) is just about heaven on earth for sweets and bakery goods. Imagine the joy of finding a cherry or apple or chocolate fudge (or five other varieties of) pie warm from the oven; the $7.10 price is a true bargain. You'll find cakes, cookies, fried pies (only to die for!), sweet rolls (five different kinds), jelly rolls, pumpkin nut rolls, chocolate rolls, breads (white, wheat, sourdough, salt rising, raisin), dinner rolls and more. You can buy granola, noodles, jams, apple butter, honey and sorghum. And don't forget the doughnuts (if any are left by the time you arrive!) «Read the rest of this article»