Topic: Farris Florist and Gift Shop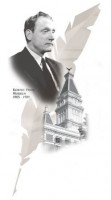 Where can you overhear a discussion of the war in '62 and learn that it's not Viet Nam being discussed but the War Between the States? Where can you find out a ghost may be lurking right down town in Clarksville? Where can you see tobacco leaves highlighted in the stained glass windows of an exquisite historic church?
The answer to all these questions is the Architectural Heritage Tour that is the first episode in the Sixth Annual Clarksville Writers' Conference.
Here's what you missed if you weren't on the tour conducted by Josh Wright. He co-chaired with Micki Daugherty this year's tour. Architect Wright gave a brief overview of each location to be visited during a presentation at the Riverview Inn where the group of 30 writers and history buffs met at 9:00am on Wednesday. «Read the rest of this article»