Topic: Fascism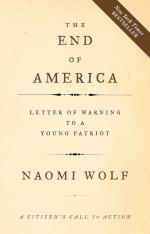 Naomi Wolf, author of the groundbreaking book The Beauty Myth, has been on the speaker circuit promoting her latest book, The End of America: Letter of Warning to a Young Patriot. It is a different track that her prior emphasis on women's rights and feminism. The End of America is "a harbinger of an age that may finally see the patriarchal realm of political discourse usurped."
Wolf enters a male-dominated political commentary arena dominated by men to make a compelling argument for civil rights. Her analysis falls closer to the bones of political discourse as presented by Emma Goldman, and presents her case with an energetic urgency as she cautions Americans of a dangerous "fascist shift" brought about by the Bush administration.
Chapters outline the "Ten Steps to Fascism" citing historical corollaries (as well as the pigs in Orwell's Animal Farm), with headings like "Invoke an External and Internal Threat," "Establish Secret Prisons," "Surveil Ordinary Citizens," "Restrict the Press," and "Target Key Individuals," making a case for the existence of fascism outside of a dictatorship. «Read the rest of this article»
Twenty-five years ago, when Pat Robertson and other radio and televangelists first spoke of the United States becoming a Christian nation that would build a global Christian empire, it was hard to take such hyperbolic rhetoric seriously. Today, such language no longer sounds like hyperbole but poses, instead, a very real threat to our freedom and our way of life. In American Fascists, Chris Hedges, veteran journalist and author of the National Book Award finalist War Is a Force That Gives Us Meaning, challenges the Christian Right's religious legitimacy and argues that at its core it is a mass movement fueled by unbridled nationalism and a hatred for the open society.
https://www.youtube.com/watch?v=p-fbcy1tRoA
The above Interview with author Chris Hedgeson appeared on the Canadian Broadcast Corporation's program "THE HOUR"
«Read the rest of this article»