Topic: Fats
Hypertension Journal Report
Dallas, TX – An international study suggests other aspects of the diet may not offset the harmful effect of sodium on blood pressure. The study, published in the American Heart Association's journal Hypertension, also reaffirms the need for widespread sodium reduction in the food supply.
Researchers reviewed data on sodium intake and intake of 80 nutrients, such as proteins, fats, vitamins, minerals and amino acids, that may relate to blood pressure in 4,680 women and men (ages 40-59) in Japan, People's Republic of China, the United Kingdom and the United States participating in the INTERMAP study.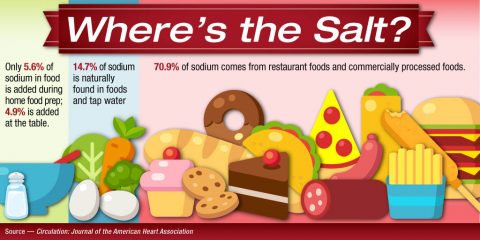 «Read the rest of this article»
American Heart Association Rapid Access Journal Report
Dallas, TX – Eating healthier fats could save more than a million people internationally from dying from heart disease, and the types of diet changes needed differ greatly between countries, according to new research in Journal of the American Heart Association.
"Worldwide, policymakers are focused on reducing saturated fats. Yet, we found there would be a much bigger impact on heart disease deaths if the priority was to increase the consumption of polyunsaturated fats as a replacement for saturated fats and refined carbohydrates, as well as to reduce trans fats," said Dariush Mozaffarian, M.D., Dr.P.H., senior study author and dean of the Tufts Friedman School of Nutrition Science & Policy in Boston.
«Read the rest of this article»