Topic: Federal Deposit Insurance Corporation
Written by Curtis Johnson
Tennessee State Representative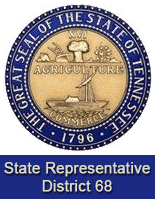 Nashville, TN – House Joint Resolution 158 passed last week to honor Austin Peay State University's upcoming 90th anniversary. Founded April 26th, 1927, the namesake of Governor Austin Peay has continuously grown over the decades, and been particularly friendly towards veterans and active duty personnel stationed at Fort Campbell.
The university has undergone a major shift this week as its newfound independent board met for the first time with Tennessee Governor Bill Haslam present. Under Governor Haslam, Austin Peay and most other four year institutions in Tennessee have been released from the Tennessee Board of Regents.
«Read the rest of this article»
Nashville, TN – The Tennessee Department of Financial Institutions ("Department") took possession of Trust Company Bank, Memphis, Tennessee at 4:00pm CDT on April 29th, 2016.
The Department has appointed the Federal Deposit Insurance Corporation ("FDIC") as Receiver of the Bank effective upon the Department taking possession of Trust Company Bank.
«Read the rest of this article»
Share Lead; Takes over Top Spot in Stewart County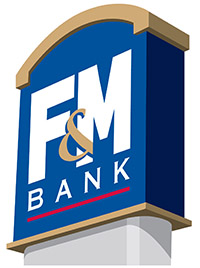 Clarksville, TN – F&M Bank continues to be the top bank in Montgomery County in deposits according to a newly published report released this week by the Federal Deposit Insurance Corporation. The report, which tracks all 11 FDIC-insured institutions in Montgomery County, shows F&M holds $389 million or 17.23 percent of local deposits. This is the 12th consecutive year F&M has claimed the number one spot in the intensely competitive Montgomery County market.
Overall, deposits in Montgomery County rose by 3.1 percent to $2.2 billion for the year through June 30th, which is slightly below the national average increase of 3.8 percent. Despite the increase in deposits, the deposit market share ranking among local institutions remains the same as last year.
«Read the rest of this article»
Federal Regulators Fine American Express an Additional $27.5 Million

Washington, D.C. – The Consumer Financial Protection Bureau (CFPB) today announced an enforcement action with orders requiring three American Express subsidiaries to refund an estimated $85 million to approximately 250,000 customers for illegal card practices.
This action is the result of a multi-part federal investigation which found that at every stage of the consumer experience, from marketing to enrollment to payment to debt collection, American Express violated consumer protection laws. «Read the rest of this article»
Protecting your assets — what to do if disaster strikes

Yonkers, NY – With natural disasters like hurricanes, earthquakes and tornados in the news so often, and the economy still struggling to stabilize, consumers are rightly concerned these days about their financial future should serious trouble strike.
"You can count on the government and sometimes your employer to help, but most of the burden of safeguarding your finances still falls on your shoulders," said Noreen Perrotta, Editor, Consumer Reports Money Adviser.
The experts at Consumer Reports Money Adviser provide the following checklist to help you fill any holes in your financial safety net. «Read the rest of this article»