Topic: Federal Insurance Contributions Act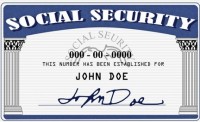 Clarksville, TN – The word "entitlement" means, in the legal sense, "a guarantee of access to benefits because of rights or by agreement through law." The Social Security Act was signed into law under President Franklin Delano Roosevelt in 1935. Originally established as a safeguard after the Great Depression, Social Security is currently estimated to keep roughly 40% of all Americans age 65 or older out of poverty.
One of the provisions is social insurance program that is funded through dedicated payroll taxes called Federal Insurance Contributions Act (FICA).
After some changes in the original law, Social Security now covers benefits for retirement, disability, survivorship, and death, which are the four main benefits provided by traditional private-sector pension plans. «Read the rest of this article»
Tax increases and automatic spending cuts that take effect in 2013 will increase government revenue and significantly cut the budget deficit. However, that comes at the cost of economic conditions "that will probably be considered a recession."
That's the conclusion reached by the nonpartisan Congressional Budget Office (CBO) in a recent report. The report also documents some of the factors and conditions that make addressing the situation so contentious. (Source: Congressional Budget Office , An Update to the Budget and Economic Outlook: Fiscal Years 2012 to 2022, August 2012.) «Read the rest of this article»