Topic: Fifth Amendment
Targets include book author, publisher, law professor Richard Epstein and newspapers that published book review. The eminent domain and redevelopment issues in this case, all of which have roots in the precedent setting Supreme Court Kelo vs City of New London (CT)  mirror issues that have arisen in Clarksville in the past 15 months, including a libel lawsuit against the grassroots Clarksville Property Rights Coalition.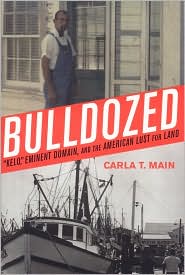 Dallas, Texas: In perhaps the most striking example of a disturbing national trend, Dallas developer H. Walker Royall has launched a lawsuit spree to silence any media or public affairs commentator who dares expose his attempted abuse of eminent domain.  Similar suits have been filed in Tennessee, Missouri and elsewhere by developers and governments looking to silence critics of eminent domain for private gain.
Royall worked with the city of Freeport, Texas, to try to condemn a generations-old shrimp business owned by the Gore family to make way for a luxury marina.  The project became the subject of the book, Bulldozed: 'Kelo,' Eminent Domain, and the American Lust for Land, authored by veteran legal journalist Carla Main.  «Read the rest of this article»