Topic: finance appropriation
The City Council Finance Committee Tuesday rejected Ward 10 Councilor Jim Doyle's request for $80,000 in municipal appropriations to assist the local Red Cross in acquiring an emergency response vehicle. The Red Cross ERV and all of its equipment was burned to rubble by an arsonist, and insurance on that older vehicle fell far short of replacement value.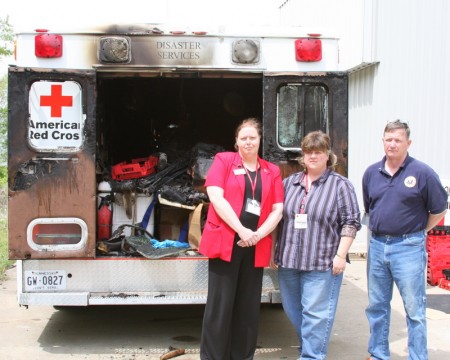 Red Cross Executive Director Linda McCoy, Health and Safety Director Patricia Brown, and Emergency Services Director Cecil Stout stand before the charred ruin of the emergency response vehicle.
Since the rejection of the request must still come before the council in executive session, tonight Red Cross Executive Director Linda McCoy, Emergency Response Director Cecil Stout, and Logistics expert Mike Vogt will offer a presentation to councilors on the need for this vehicle and the impact its loss has had on the agency's ability to effectively respond in its service area. «Read the rest of this article»