Topic: Finger Paint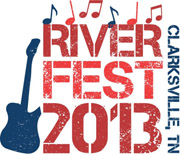 Clarksville, TN – The first day of the 2013 Riverfest Festival kicked off with absolutely glorious weather. The sky was clear, and the temperatures while warm were not excessive. Festival Attendence started out a little slow but grew steadily throughout the evening culminating in the concerts by Tina Brown, Backroad Brigade and, Skynyrd Lynard on the Miller Lite stage; and Sidewalk Prophets on the First Baptist Church stage.
The festival gets bigger and better every year, and this year is no exception. On Saturday Riverfest will kickoff with the Riverfest Regatta, with the second day of the festival officially opening shortly thereafter and running until 11:00pm. Among the attractions for Saturday are the recycled fashion show various displays by area dance studios, clubs, martial arts schools, and live musical entertainment all day long.
Johnny T will perform on the Gateway Realty Stage at 9:30pm Saturday. Country recording artist Phil Vassar will take the stage at 9:00pm as the headlining performer on the Miller Stage on Saturday.All concerts are free and open to the public.
«Read the rest of this article»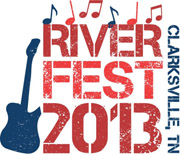 Clarksville, TN – Clarksville's Riverfest begins this weekend Friday, September 6th and Saturday, September 7th, 2013. This two day festival runs Friday from 5:00pm to 11:00pm and Saturday from 10:00am to 11:00pm.
On, Friday, Christian recording group Sidewalk Prophets will be performing at 9:00pm on the First Baptist Church Stage.
Johnny T will be performing on the Gateway Realty Stage at 9:30pm Saturday.  Country recording artist Phil Vassar will take the stage at 9:00pm as the headlining performer on the Miller Stage on Saturday. «Read the rest of this article»