Topic: Flood Relief Information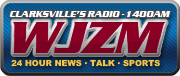 WJZM's  (1400 AM)  "Clarksville in Review" tomorrow morning from 8:00 am – 10:00 am will be two hours of flood relief information and interviews with those helping recover from the flood. You are encourage  to listen and learn how you can take part in the recovery. 
There will be lots of information that will be helpful. Also, call in your stories of the Great Flood of 2010.
You can also listen online at www.wjzm.com/listenlive.php.