Topic: Halloween Concert
Here is the a list of events, and other basic information to help you have a safe and fun Halloween.
While Halloween falls on a Sunday this year, Clarksville-Montgomery County has decided not to move the official trick or treating night. They also do not set an official time for trick or treating. Most people would expect trick or treaters between the hours of 6:00pm till around 9:00pm. Fort Campbell has moved their trick or treating night to Saturday; and there, trick or treating is allowed between 6:00pm and 8:00pm.
Safety should be a primary consideration for people out and about on Halloween. Safe Kids USA offers these tips for Parents and Drivers. «Read the rest of this article»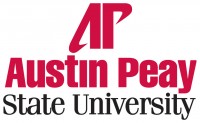 Clarksville, TN – Don't miss the 2010 edition of the APSU Percussion Ensemble Halloween Concert! This year's performance includes plenty of tricks and treats including guest appearances by Stanley Yates/guitar, Francis Massinon/harpsichord, Matt DeVore/drumset, Casey Brock/bass guitar, and Claire Davis/harp, as well as help from the Breaking Wind band and the Wailing Banshees chorus.
This year's concert is Friday, October 29th, 2010 at 6:00pm and 8:00pm in the MMC Concert Hall.  Admission is two cans of food (donated to Loaves & Fishes) or $3.00. Tickets are on sale at the Music Department office 931-221-7818. Get your tickets before they're gone! This one sells out!
«Read the rest of this article»
Traditionally, the adjectives "creepy" and "scary" aren't used to describe a musical performance, but on this occasion, Austin Peay State University music professor David Steinquest thinks they're apt.
He used these macabre terms recently to describe the University's annual Percussion Ensemble Halloween Concert. For the last 25 years, this strange blend of music and mayhem has set the mood for the October holiday, and it's proven to be wildly popular among Clarksville residents.
"It's a very family-friendly concert, and it's always a sell-out," Steinquest said.
At 6 and 8 p.m. this Friday, APSU musicians will once again don costumes and perform a mix of Halloween music in an eerily decorated concert hall inside the Music/Mass Communication Building.
«Read the rest of this article»
APSU's Department of Music annual Halloween music showcase was filled with a delightful world tour and musical tributes. Halloween costumes of all ilks festooned the ensemble members. Percussion instruments were definitely the focus of the evening.
The annual APSU Percussion Ensemble Halloween Concert lived up to its reputation as a lively music entertainment value for young and not-so young. From drums and human percussion to oboes and xylophones and tambourines, to wooden blocks and ceramic bowls, sounds were produced by means both wondrous and extraordinary. «Read the rest of this article»
The Austin Peay State University Percussion Ensemble will present the 2008 Halloween Concert in two back-to-back performances. The concert, historically a sell-out performance, will be at 6 p.m. and 8 p.m., Thursday, Oct. 30 in the Music/Mass Communication Concert Hall.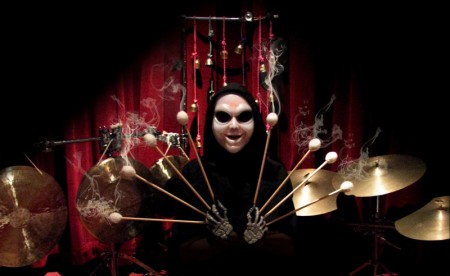 The group performs all kinds of music on all kinds of percussion instruments: classical music such Carmina Burana as used in the movie "Excalibur," rock music such as "Walk Like an Egyptian," music from the movie "Casper" and real percussion ensemble music using instruments from drums, timpani, gongs and cymbals to bells, xylophones, marimbas and chimes. «Read the rest of this article»