Topic: health care reform
Leverages Federal dollars to purchase private health insurance for Tennesseans without access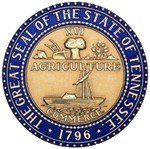 Nashville, TN – Tennessee Governor Bill Haslam unveiled his plan to pursue real health care reform in the state.
Haslam announced that he will not expand TennCare rolls under the Affordable Care Act but instead is working to leverage the available federal dollars to purchase private health insurance for Tennesseans who would not otherwise have access to coverage.
«Read the rest of this article»
During the 2008 presidential election I have the privilege of serving as the Montgomery County campaign manager for then Candidate Barack Obama. I briefed my team of volunteers about the tough road we had ahead of us especially with the economy being in bad shape and with soldiers losing their lives in foreign countries.
I reminded them to stay focused on the issues that our country was facing as they went about their daily campaign tasks of canvassing, registering voters and phone banking. I asked them to concentrate on the five bullet points that were drastically affecting our country as they came down the chain of command from the National Obama 08 headquarters. «Read the rest of this article»
Nashville – Representative Brian Kelsey announced yesterday that he will introduce the "Health Care Choice Act" in an effort to lower health insurance costs and provide choice to Tennesseans. The legislation would allow Tennesseans to purchase health insurance plans from companies in other states, a practice that is currently prohibited.
"Americans want and deserve health care reform but not the government-run health care that is being discussed in Washington. This legislation is health care reform at the state level that will lower heath insurance costs and provide more choices to Tennesseans," said Representative Kelsey.
The Health Care Choice Act will expand the number of health care plans available for purchase from 127 in Tennessee to potentially more than 5,000 plans nationwide1.
"The goal is to lower costs by offering more choices," continued Kelsey. "With this legislation, Tennesseans will have more access to affordable health care insurance." «Read the rest of this article»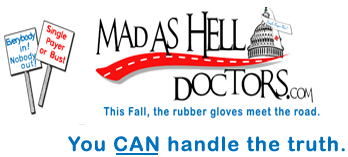 The Mad as Hell Doctors kicked off a caravan across America on September 8th, protesting health care profiteers. Their caravan will be arriving in Nashville on Monday, September 21st and will be stopping from 4:30pm – 6:00pm at the headquarters of the Healthcare Corproation of America (HCA) (One Park Plaza off Charlotte Ave by Centennial Park between 25th Ave So & 31st Ave.) . Come out and show your support for single payer health care!
A video used to be embedded here but the service that it was hosted on has shut down.
The event is sponsored by Healthcare-NOW, Physicians for a National Healthcare Program, National Nurses Organizing Committee, Nashville Peace and Justice Center, Nashville Peace Coalition, Green Party of Middle Tennessee, & others. «Read the rest of this article»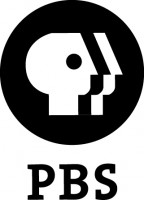 Emmy-winning veteran public affairs journalist Bill Moyers hosts Bill Moyers Journal on PBS. The show airs locally on WNPT channel 8 on Friday nights at 8:00 p.m. The weekly series is aimed at enriching the conversation of and about democracy by featuring fresh and original voices, perspectives that reflect a diversity of insight and experience. Each one-hour broadcast features analysis of current issues and interviews with prominent figures from the worlds of politics, arts and letters, religion, science and the media.
He recently did this video essay on the Health Care debate.
Back in January of this year President Barack Obama announced the formation of a new group known as "Organizing for America" that aims to continue the grassroots advocacy that began during his presidential campaign.
"As President, I will need the help of all Americans to meet the challenges that lie ahead," Obama said in a video message e-mailed to supporters. "That's why I'm asking people like you who fought for change during the campaign to continue fighting for change in your communities."
Since we currently are not in the campaign mode where we will operate under the name Clarksville for Obama we have been tasked to join the rest of the grass roots organizations across the nation in organizing in our communities under our new advocacy organizational name "Clarksville Community Organizers" (CCO). «Read the rest of this article»
As early voting opened in Tennessee to heavy turnouts, Senator McCain's promised thumping of Senator Obama didn't materialize. Groups gathered at both local Republican and Democratic party headquarters to watch the debate, discuss their preferences and hear the candidates present their proposals.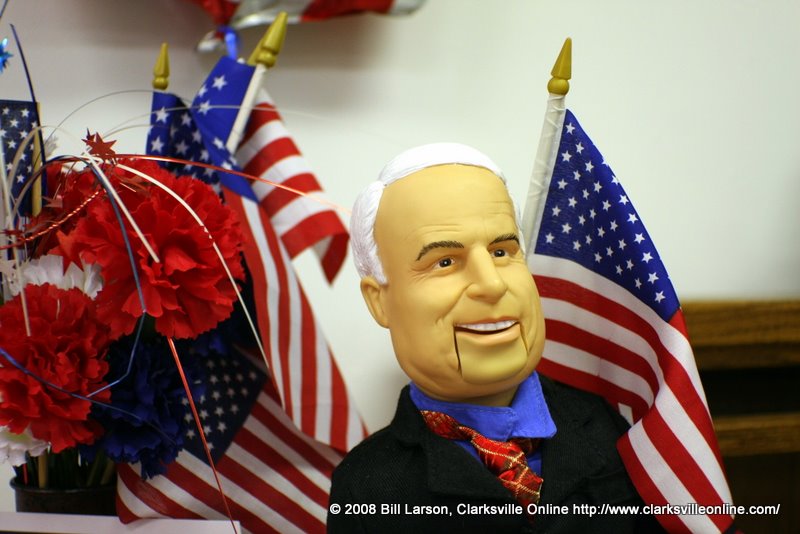 The final candidates debate of the 2008 presidential election season was a much anticipated showcase of America's choices for leadership for the next four years. The debate's focus was to be on domestic policy, with the recent upheaval in the financial markets to be a focal point. The level of negative ads has increased to  near crescendo as McCain's campaign unleashed new charges and the Obama campaign refuted falsehoods and returned the fire to McCain. The debate was supposed to offer a clear demonstration of McCain's superiority to Obama. Sadly, for McCain, the smear adhesive didn't stick.
Viewers were treated to a consistent presentation of proposals and ideas from Obama as he responded to  McCain's attempts to hang negatives.
Obama noted that McCain's own campaign said publicly last week that, "if we keep on talking about the economic crisis, we lose, so we need to change the subject." Such was the tone for the course of the evening. «Read the rest of this article»