Topic: Health Department
October is Breast Cancer Awareness Month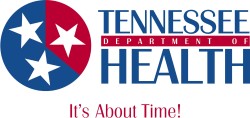 Nashville, TN – Clinical breast exams and mammograms are powerful weapons in the fight against breast cancer. But many women go without these recommended screening tests for a variety of reasons:  they don't think they're at risk for breast cancer, lack insurance coverage for the screenings, don't have time for an exam or the means to travel to a health provider, or simply fear the results and what may come next. During National Breast Cancer Awareness Month this October, the Department of Health is urging all women over age 40 to get these important annual screening tests and reminding them resources are available to assist them.
"All women are at risk for breast cancer, especially as they age, and there are resources available for those who don't have insurance coverage for screening and help with treatment if that becomes necessary," said Health Commissioner Susan R. Cooper, MSN, RN. "We urge Tennessee women to get screened for breast cancer and talk to their health providers about ways to reduce their risk for this disease." «Read the rest of this article»

The Vietnam Veterans of America Chapter 396 will hold it annual Candle Light Vigil on May 30th at 7:00 pm.  This year the event will be held at the Veterans Plaza by the Health Department.
They are also sponsoring the Veterans wall from Chattanooga.  The wall will arrive sometime on Saturday the 29th. This wall will be placed at Veterans Plaza by the Health Department in the parking lot.
Parents reminded that children under age 10 need two doses

NASHVILLE – The Tennessee Department of Health is reminding parents that children under the age of 10 require two doses of H1N1 flu vaccine in order to be fully immunized against the virus. H1N1 flu vaccine is plentiful in Tennessee and widely available through county health departments and other providers across the state. Tennessee's county health departments are providing this vaccine at no charge to patients.
"We urge parents not to put off getting their child's second dose of H1N1 flu vaccine," said Health Commissioner Susan R. Cooper, MSN, RN. "H1N1 flu activity could continue for months, and this is also the time of year when seasonal flu viruses appear. It's not too late to get these important vaccinations to be sure your child is protected throughout the flu season." «Read the rest of this article»
Call the Tennessee Tobacco QuitLine for Great American Smokeout

Nashville ? The Department of Health urges Tennessee smokers to take part in this year's Great American Smokeout on November 19, 2009. The goal of this annual health observance is to encourage smokers toquit for one day in the hope they may quit for good. In Tennessee,tobacco users can call the Tennessee Tobacco QuitLine free of charge at1-800-QUIT-NOW or 1-800-784-8669 to set a plan for how to quit.
"Tennesseans who want to start the process of quitting smoking have a powerful tool available to help them in the QuitLine," said Health Commissioner Susan R. Cooper, MSN, RN. "Research shows that smokers who have a cessation plan and a support system have a much better chance of success with their quit attempt."
«Read the rest of this article»
Tennessee Health Centers Receive More Than $16 million

NASHVILLE – Tennessee will receive $16.7 million in American Recovery and Reinvestment Act funding for health center facility and equipment needs, which will increase access to health care for thousands of Tennesseans.
The announcement, made this week by First Lady Michelle Obama, detailed the release of a total of $851 million in grants. Two state-run health centers are among the grant recipients. The Upper Cumberland Primary Care Project will receive $1.4 million and Stewart County Community Medical Center was awarded $349,000.
"The Recovery Act grants for capital projects and equipment will enhance efficiency and services offered at these health centers in Tennessee," said Governor Phil Bredesen. "This funding will increase access to care for many more families, allowing them to seek preventive and primary health care." «Read the rest of this article»