Topic: Joining Forces
By Donna Miles, American Forces Press Service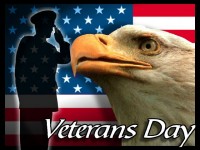 Washington, DC – One of the best ways Americans can honor the nation's veterans this Veterans Day is by giving them a job, three senior government officials told reporters today.
Veterans Affairs Secretary Eric K. Shinseki, Labor Secretary Hilda L. Solis and U.S. Small Business Administrator Karen G. Mills praised initiatives under way to support returning combat veterans, including those President Barack Obama announced yesterday.
They echoed the president's comments yesterday, as well as those of Defense Secretary Leon E. Panetta as he met yesterday with chief executive officers at an event hosted by the Goldman Sachs Foundation in New York.
"The men and women of the 9/11 generation have risked their lives fighting overseas defending our freedoms, and they have been a formidable force for good," said Shinseki during the joint conference call today. "They are remarkable men and women and shouldn't have to fight for a job when they come home." «Read the rest of this article»