Topic: Joni Covington
They came by the hundreds soldiers' from Fort Campbell ready to assist those in need of help in our flood ravaged community. These selfless soldiers voluntarily went into some of the dankest, dirtiest environments in our city; and yet were still able to come out of it with a smile on their face!
They were seen as a godsend by the people they helped with the flood cleanup on Friday including local businessman Bill Roberts of Thunder Road Automotive & Marine whose face couldn't help breaking out in a broad smile as he saw even more soldiers had arrived at his business to help out. At Hardware City owner Joni Covington had teams of soldiers throughout her store and was vocal in her praise for them "These soldiers are absolutely amazing" she said. At Mary's Music and BFS Insurance the soldiers were gathered in a group with Freddy Wyatt and Andy Jones who were busy thanking them for their hard work that day.
«Read the rest of this article»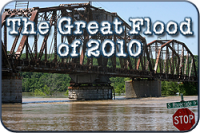 A walk thru the flood damage at Hardware City with owner Joni Covington. We take a look at the type of damage their having to deal with as well as how they are cleaning up after the disaster.
There is plenty of work to be done and they can use all the helping hands they can get.