Topic: Kentucky Coffee TRees
On October 14th, the City of Clarksville received confirmation from the Tennessee Department of Agriculture that the City has been awarded $4,000 in the form of a matching grant to be used for planting trees. The other $4,000 will be provided by the City. The money comes from the Tennessee Agricultural Enhancement Program, and is administered by the Tennessee Department of Agriculture, Division of Forestry.
The grant will be used to plant forty trees within the large, circular ramp loop at the intersection of Ft. Campbell Boulevard and 101st Airborne Division Parkway. Three tree species have been selected for the project. Twenty shumard oak (Quercus shumardii), ten Kentucky coffee trees (Gymnocladus dioicus), and ten bur oak (Quercus macrocarpa) will be planted.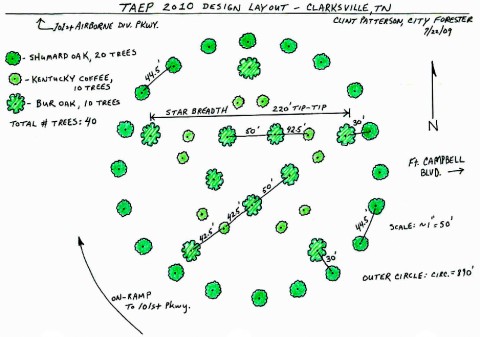 «Read the rest of this article»