Topic: Marco's PIzza

Clarksville, TN – Clarksville Police have taken Kyle Dickson and Dillon Tatro into custody after being indicted by the September 2017 Montgomery County Grand Jury for Two Counts of Felony Theft and One Count of False Report.
The investigation into the Robbery of Marco's Pizza on Tiny Town Road revealed that a robbery did not actually occur, but was an elaborate scheme concocted by one of the Marco's employees, Kyle Dickson, along with an accomplice, Dillon Tatro.
«Read the rest of this article»

Clarksville, TN – On Saturday, July 8th, 2017 around 11:47pm, the Marco's Pizza on Tiny Town Road was robbed by a man wielding a wooden bat.
The man entered the business wearing black pants, black hooded jacket, black ski mask over his face wearing black ski goggles, and gloves, threw a zebra patterned bag at the manager, threatened him, and demanded money.
«Read the rest of this article»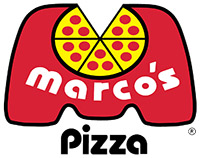 Clarksville, TN – On Monday, February 2nd, 2015, owners Matthew Buehrle and Ben Diquattro will be opening Clarksville's first Marco's Pizza at 1761 Tiny Town Road. Marco's is the only national pizza chain founded by a native Italian and takes pride in making fresh ah!thentic italian handmade pizza.
"I saw a need in the Clarksville market for better pizza," stated Buehrle. "We chose the Exit 1 area because of the growth in this part of town. Also, other pizza places have to drive from Exit 4 and we are here to service them direct."
«Read the rest of this article»
Ah!thentic Italian Pizza Franchise Brings Handmade Artisan Pizza to Clarksville
Clarksville, TN – Marco's Pizza, the fastest growing pizza company in the United States, known for its fresh ingredients, secret sauce recipe and dough made in-store daily, announced it will open at 1761 Tiny Town Road on February 2nd, boosting the local economy by adding more than 20 jobs.
"Pizza lovers in Clarksville will quickly find out that we're substantially different than your typical pizza chain," said Ben Diquattro, owner of Marco's Pizza in Clarksville. "I was attracted to the Marco's brand because it was founded on Italian freshness and quality standards, making it stand out from all other well-known brands. All ingredients are genuinely fresh and truly craveable. I'm proud to open a Marco's Pizza and offer such a quality product to the people of Clarksville."
«Read the rest of this article»