Topic: Media Consolidation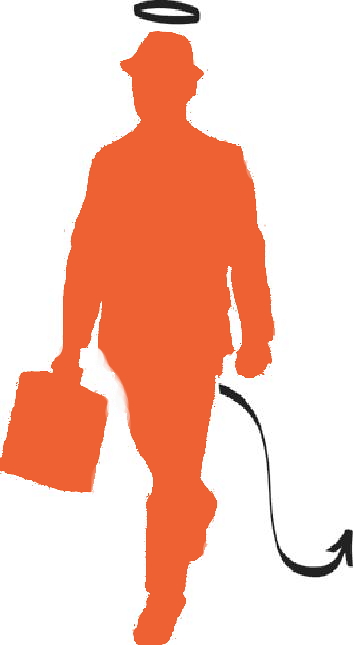 One hundred and fifty years ago, the corporation was a relatively insignificant entity. Today, it is a vivid, dramatic and pervasive presence in all our lives. Like the Church, the Monarchy and the Communist Party in other times and places, the corporation is today's dominant institution. But history humbles dominant institutions. All have been crushed, belittled or absorbed into some new order. The corporation is unlikely to be the first to defy history.
In a complex, exhaustive and highly entertaining documentary, The Corporation, Mark Achbar, co-director of the influential and inventive Manufacturing Consent: Noam Chomsky and the Media, teams up with co-director Jennifer Abbott and writer Joel Bakan to examine the far-reaching repercussions of the corporation's increasing preeminence.
Based on Bakan's book, The Corporation: The pathological pursuit of profit and power, the film is a timely, critical inquiry that invites CEOs, whistle-blowers, brokers, gurus, spies, players, pawns and pundits on a graphic and engaging quest to reveal the corporation's inner workings, curious history, controversial impacts and possible futures. Featuring illuminating interviews with Noam Chomsky, Michael Moore, Howard Zinn and many others, The Corporation charts the spectacular rise of an institution aimed at achieving specific economic goals as it also recounts victories against this apparently invincible force.
Among the 40 interview subjects are CEOs and top-level executives from a range of industries: oil, pharmaceutical, computer, tire, manufacturing, public relations, branding, advertising and undercover marketing. In addition, a Nobel-prize winning economist, the first management guru, a corporate spy, and a range of academics, critics, historians and thinkers are also interviewed. «Read the rest of this article»
Forget Imus. All this fuss will be just so much wasted outrage unless we use it to direct public attention to the big picture: the way the media information cartel has rigged journalism in this country. We need to agitate to break up and re-regulate the media, beginning with restoration of the fairness doctrine.
Ever since the fairness doctrine went down for good in 1986, hate and misinformation have taken over the airwaves, beginning with Rush Limbaugh on the radio and spreading to TV. As Rep. Louise Slaughter said in a 2004 interview with Bill Moyers, after fairness was defeated,
AM radio rose. It wasn't even gradual, Bill. I mean, almost immediately. And I should point out to you that when we tried to reinstate [the fairness doctrine] again in '93, one of the reasons we couldn't was that Rush Limbaugh had organized this massive uprising against it, calling it "The Hush Rush Law."
«Read the rest of this article»

"Give us back our airways!"
That was the message delivered by the majority of speakers at the Federal Communications Commission's second public hearing on the impact of media consolidation in Nashville Monday. The event drew a crowd of over 500 people from six states and a panel of celebrities to Belmont University's Massey Performing Arts Center. The hearing was the second of six to be held across the country.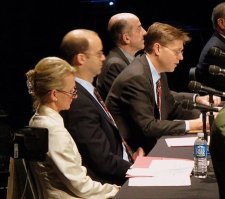 "If anyone tries to tell you that Big Media's push for more consolidation has gone away, don't believe it," said Commissioner Michael Copps. "They haven't gone away, and their lawyers and lobbyists haven't gone away either. So if we are going on to a broader dialogue on the future of media in our democracy, it will be because of citizen action from millions of Americans and testimony at hearings like this one."
"The law tells us that we are supposed to promote the public interest," said Commissioner Jonathan Adelstein. "And I think you, the public, know best what's in your interest and not the lobbyists that we hear so much from inside the beltway." «Read the rest of this article»

NASHVILLE — A broad-based coalition of local and national groups is urging the public to turn out for the Federal Communications Commission's second official hearing on sweeping changes to the nation's ownership rules.
The FCC public hearing will take place:
Monday, Dec. 11
Hearing Starts at 1 p.m. — Public Testimony until 9 p.m.
Massey Performing Arts Center
Belmont University
1900 Belmont Blvd.
Nashville
At 12 p.m. noon the Newspaper Guild, Communications Workers of America, American Federation of Musicians and other labor groups will hold a press conference at the hearing site at Belmont University.
All five FCC Commissioners are expected to attend the hearing. The event will feature an "open microphone" session for the public to offer testimony on a first-come, first-served basis. For more information, visit www.stopbigmedia.com/=nashville
The following people are available to provide comments on the event: «Read the rest of this article»

George Jones, Porter Wagoner, Naomi Judd to join hundreds of citizens concerned about the costs of media consolidation
NASHVILLE — On Dec. 11 in Nashville, legendary country musicians George Jones, Porter Wagoner, Naomi Judd, Dobie Gray and Craig Wiseman will testify about media consolidation's impact on musicians at an official Federal Communications Commission hearing. They'll be joined at the event by dozens of community leaders, several award-winning journalists, and hundreds of concerned citizens from throughout the region who are speaking out in response to the FCC's plans to change media ownership rules.
"I'm excited that pioneers of music and journalism — winners of Grammy Awards and Pulitzer Prizes — are speaking out about media ownership," said U.S. Congressman Jim Cooper (D-Nashville), who will also testify at the event. "Preserving a diverse spectrum of media voices is important to Nashville, and it's essential for a healthy democracy."
All five FCC Commissioners are expected to attend the hearing, which will feature an "open microphone" session for the public to offer testimony on a first-come, first-served basis. «Read the rest of this article»

The FCC has announced that the second official public hearing on media ownership issues will be held in Nashville, Tn.

Date: Monday, Dec. 11, 2006
Time: 1:00 p.m.
Location: Belmont University
    Massey Performing Arts Center
    Massey Concert Hall
    1900 Belmont Blvd
    Nashville, Tenn.
    Belmont Campus Map and Directions
Further details, including the full schedule and panelists, will be posted as they are available.
The hearing will feature two panels with oppportunities for public comment after each. The first panel will focus on issues related to the music recording community. The second panel will focus on local Nashville broadcasting and independent programming. «Read the rest of this article»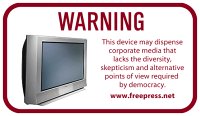 Tonight's theme is media consolidation and the corporate media. I have rounded up a collection of videos from Youtube and Google Video which highlight some of the issues raised by the massive over consolidation of the media, giving a just few companies,  full control over what you see, hear, and read. You only have to look at the recent attempt to rewrite history attempted by the Disney Corporation in cahoots with ABC to see why this should concern all of us. «Read the rest of this article»

Back in 2004 Jon Stewart appeared on the CNN show Crossfire with Paul Begala and Tucker Carlson to promote his Book "America: A Citizen's Guide to Democracy Inaction". During his interview he issued a scathing indictment of the press and media in this country and thier dumbing down of the public discourse.
You can sometimes say things in jest, that you never would be able to say outright.
«Read the rest of this article»