Topic: Nashville Peace and Justice Center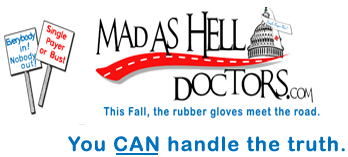 The Mad as Hell Doctors kicked off a caravan across America on September 8th, protesting health care profiteers. Their caravan will be arriving in Nashville on Monday, September 21st and will be stopping from 4:30pm – 6:00pm at the headquarters of the Healthcare Corproation of America (HCA) (One Park Plaza off Charlotte Ave by Centennial Park between 25th Ave So & 31st Ave.) . Come out and show your support for single payer health care!
A video used to be embedded here but the service that it was hosted on has shut down.
The event is sponsored by Healthcare-NOW, Physicians for a National Healthcare Program, National Nurses Organizing Committee, Nashville Peace and Justice Center, Nashville Peace Coalition, Green Party of Middle Tennessee, & others. «Read the rest of this article»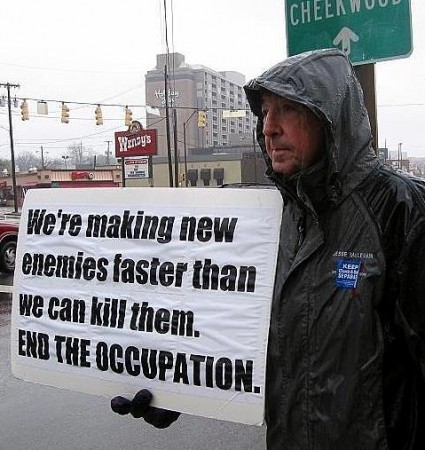 Despite heavy rains, the Nashville Peace Coalition held a planned Peace street  rally at Centennial Park in Nashville today, just days before the anniversary (March 19) of the Iraq War.
The Nashville Peace Coalition has called  for peace in Afghanistan and Iraq on the sixth anniversary of the occupation of Iraq; the street protest went on as planned but rain washed out plans for an accompanying concert and speaker program that was to have from noon to 4 p.m.
"Now is the Time for Peace" was intended as an appeal to President Obama and the Democratic House and Senate to withdraw all troops from Iraq including non-combat troops and reverse the recently announced troop surge in Afghanistan.  «Read the rest of this article»
We imagine that this will be a media event with lots of press — a golden opportunity for progressives to get our unified message out about CUTTING THE MILITARY BUDGET and SPENDING ON EDUCATION, JOBS, etc. FOR OUR FUTURE.  Please join us in protest of Bush and his war agenda at 10:30 a.m. at the Nashville Bun Company.  We will convene as close to the entrance as possible (looks for our signs).  «Read the rest of this article»
The Nashville Peace and Justice Center is a community-based coalition of organizations and individuals working to promote equity and to create a peaceful, just, and sustainable society through reflection, education, and non-violent action.
Peace & Justice E-Blast, For the week of July 13 – 20, 2007
Are you a changeseeker? Become a Changemaker Get involved at NPJC!
Justice at Smithfield — Publix/H.G. Hills Rallies
The working families of the Smithfield pork production plant in Tar Heel, NC need our help! Together we can put an end to skyrocketing injuries, threats, intimidation, and the firing of injured workers. Help us tell Smithfield pork that as their business practices continue to hurt their employees that it will only hurt their business. Your support will give us the strong turn out Tar Heel workers deserve. Contact Kate at (202) 286-9626 or .org for more info. «Read the rest of this article»