Topic: National Alliance of Business
Written by Jerry Green
USASOC Public Affairs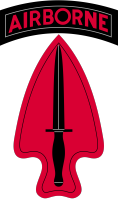 Fort Bragg, NC – On Friday, February 1st, 2013, history came alive for the more than 500 people in attendance at the Fort Bragg Officer's Club.
The event, part of the African American Heritage Observance, was hosted by the 8th Military Information Support Group (Airborne) Equal Opportunity office, and the start of African American History Month at Fort Bragg, NC.
Featured guest speaker, Donald Elder, captivated the audience with his stories and experiences as a young man who enlisted into the Army with the desire to join the famed Tuskegee Airmen unit. As Elder took the podium and observed the mass of military uniforms, he was visibly awed with the response from the audience.
"If I had any idea of the things I went through after joining the Army Air Corps would  result into this opportunity to be with you today, reliving those experiences for you, I would do it all again over," said Elder. «Read the rest of this article»