Topic: National Fair Housing Alliance
National Fair Housing Alliance Calls on Federal Government to Improve Enforcement Efforts, Broaden Law to Protect Public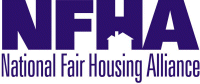 WASHINGTON, DC  — Today, the National Fair Housing Alliance (NFHA) reported that housing discrimination remained at a near historic level in 2009. "A Step in the Right Direction," NFHA's 2010 Fair Housing Trends Report, applauds the Department of Housing and Urban Development (HUD) and the Department of Justice (DOJ) for their recommitment to addressing violations of the federal Fair Housing Act and for directly confronting the discriminatory practices of municipalities that receive federal funds. Yet annual data on fair housing complaints show a continued trend: in 2009 again, 93 private non-profit fair housing organizations, operating on shoestring budgets, processed nearly twice as many complaints as all government agencies tasked with enforcing the federal Fair Housing Act.
"For the second year in a row, the American public reported over 30,000 incidents of housing discrimination," said NFHA President and CEO Shanna L. Smith. "Although this is over a 10% increase in the number of annual reported violations in recent years, it is barely a drop in the bucket compared to the millions of incidents of housing discrimination that we know occur each year. Now, more than ever, as we brace ourselves for impending foreclosures and work to rebuild our communities, we must be vigilant in our fight against fair housing violations." «Read the rest of this article»
HUD and Fair Housing Group Partner to Fight Foreclosures and Discrimination
WASHINGTON– Department of Housing and Urban Development (HUD) Secretary Shaun Donovan and the National Fair Housing Alliance (NFHA) rolled out their national media campaign to fight foreclosures and discrimination.
NFHA and HUD have partnered to create a national media campaign that informs consumers about alternatives to foreclosure, how to avoid predatory loan terms and how to recognize and report rental discrimination. NFHA's members nationwide, the Leadership Conference on Civil Rights, and other groups will assist with distributing the materials.
"Many families, particularly minorities, have been victims of aggressive and misleading marketing of risky loan products and foreclosure rescue scams," said HUD Secretary Donovan. "As we implement President Obama's Making Home Affordable plan to deal with the foreclosure crisis we need to ensure that families in trouble with their mortgages are not hurt a second time with scams. Foreclosure scams are destructive, devastating, and deceptive, and I'm thrilled that the National Fair Housing Alliance, in partnership with HUD is launching an ad campaign to address the fair housing challenges in the foreclosure crisis, including predatory lending and foreclosure scams." «Read the rest of this article»