Topic: National League of Junior Cotillions
There's no more excuse for poor electronic etiquette! Whether you're sending an email, tweeting, or texting, this handbook has all the do's and don'ts.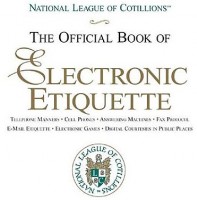 When is it inappropriate to use your cell phone in public? According to The Official Book of Electronic Etiquette, you should never place or receive a call, or allow the phone to ring or beep during a meal, meeting, religious service, wedding, or funeral. What is the proper etiquette for using your laptop in the office? This new reference advises against checking your e-mail, pulling up an Internet site, playing an electronic game, or working on a file unrelated to the purpose of the meeting.
If you have ever considered these questions, then The Official Book of Electronic Etiquette is perfect for you. «Read the rest of this article»