Topic: Norman Quirion
Downtown Commons Winter Ice Rink
Clarksville, TN – Several people come together to sponsor the return of the Downtown Commons Winter Ice Rink.
On Wednesday, November 21st, 2018 Downtown Commons Winter Ice Rink sponsors gathered to unveil new elements of the ice-skating operations.
In addition to the ice rink being 49% larger than last year, F&M Bank returns as the Winter Ice Rink Title Sponsor with a custom mural wall that was painted by Clarksville Academy students.
"The F&M Bank mural wall is a great place for people to take pictures that will commemorate their time on the ice," stated Paula Atkins Downtown Commons Event Manager.

«Read the rest of this article»
Downtown @ Sundown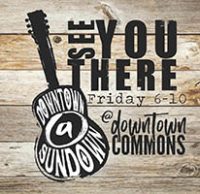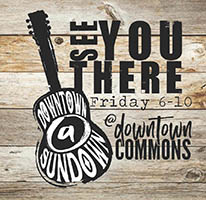 Clarksville, TN – This Friday, August 17th, 2018 Music 4 Mercy, a local soul and jazz group, and The Beagles, a local group that plays cover music spanning the decades from the 70s through now, will open for Broadcast 90's, The Ultimate 90's Rock Tribute band, playing homage to the last golden decade of guitar driven rock: the 1990's, during the fourth concert in the six-part Downtown @ Sundown series.
"This will be a fantastic night of music in Downtown Clarksville at Downtown Commons. This Friday's show is a triple threat featuring three top notch acts to include two local favorites, Music 4 Mercy and the Beagles," stated Norman Quirion, Two Rivers Company Executive Director.
«Read the rest of this article»
Downtown @ Sundown Concert Series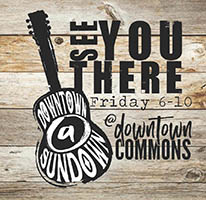 Clarksville, TN – Downtown Commons recently hosted the second installment of Downtown @ Sundown, Clarksville's newest outdoor concert series, with hundreds of people coming out to enjoy live music by country music duo, Trailer Choir.
Trailer Choir features vocalists Marc Fortney and Vinny Hickerson who gained a wide audience in 2007 when they were signed to Toby Keith's record label, Show Dog Nashville. The band has had a number of their songs make it onto the Billboard Hot Country Songs charts.
«Read the rest of this article»
Downtown @ Sundown Concert Series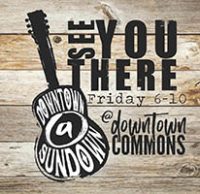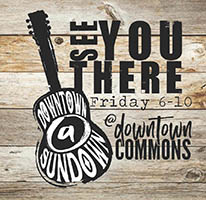 Clarksville, TN – Downtown Commons' Downtown @ Sundown Concert Series & Street Fair is this Friday, June 15th at 6:00pm. Come join us for a night of FREE music and family fun. Featuring Trailer Choir, charting the Billboard Hot Country Charts with songs like "Rockin' the Beer Gut" and "What Would You Say."
Openers include Aaron Lessard, a solo artist based in Nashville, known for having a heavy jazz influence and U.S. Marine Corps Veteran Chris Turner, a singer/ songwriter from Ninety Six, South Carolina.
«Read the rest of this article»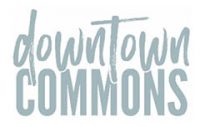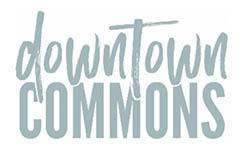 Montgomery County, TN – Major General Andrew Poppas and his 101st Airborne Division team won the inaugural Mayor vs Major Broomball game at the Downtown Commons ice rink Wednesday night, January 10th, 2 to 1 in overtime.
TRC Executive Director Norman Quirion commented after the game, "What an event. I'm going to say there were at least 300 people out here, and the condition of the ice made tonight's game more competitive than expected. It wasn't a high-scoring game, but the competition was real."
«Read the rest of this article»

Clarksville, TN – At the weekly meeting of the Kiwanis Club of Clarksville on Tuesday, September 26th, 2017 annual awards were presented and new officers were installed by the TN-KY District Division 14 Lt. Governor C. David Elliot.
«Read the rest of this article»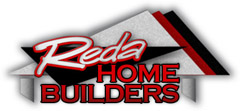 Clarksville TN – As you are out shopping for your families please pick up a few extra items for those who may be less fortunate this year.
Maybe a Mom or Dad lost their job. Maybe an unexpected bill came in and there's just not as much money to provide this year.
So many of us have been single parents and know what it feels like to do without to provide for our kids. And let's not forget all the discussions this year about downsizing at Fort Campbell and in Clarksville, we never know what the future holds for any of us.
«Read the rest of this article»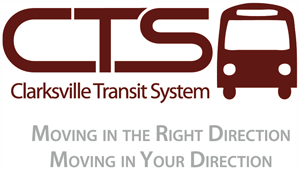 Clarksville, TN – It's advertising at its biggest and finest when the Clarksville Transit System wraps a bus. The newest addition to the fleet is the Altra Federal Credit Union bus wrapped in their brand colors of black and red.
The bus made it's maiden voyage from the City bus terminal to the parking lot of Altra Federal Credit Union's Madison Street location's parking lot on Monday.
«Read the rest of this article»