Topic: Portrait Society of America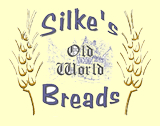 This month the Evening with the Artist at Silke's Old World Breads features the talented Betty Pierce Liles, an artist from Hopkinsville, Kentucky, and her exhibition entitled "Autumnal Equinox".
The show opens on Saturday, October 31st with the reception being held at Silke's Old World Breads from 6:30pm till 8:00 pm. The reception is free and open to the public, and refreshments are provided. Betty's art will remain on display throughout the months of October and November.
«Read the rest of this article»
The DAC Inaugural art exposition event serves as prelude to annual Riverfest festival and promotes independent celebration of the visual arts and the art community.
The Downtown Artists Co-op hosted the inaugural of the Regional Juried Art Exposition on September 4. DAC's Franklin Street showroom was filled with over 300 pieces of art submitted for the exposition.
"The submission response to this inaugural competition was greater than expected. We hope for even more next year," said Betty Liles. She explained that in non-juried expositions, every submission is displayed and a judge selects the winners. Entries are submitted mostly from local or immediate regional community artists. In a juried exposition, selections are received from a wider area, often from outside the state, are viewed by a panel of art experts for inclusion in the exposition or rejection and then are judged by the various specified categories.
«Read the rest of this article»