Topic: Possession of Burglary Tools
Clarksville Police Department (CPD)

Clarksville, TN – Clarksville Police Sgt Rodriguez was on patrol, Thursday, April 4th, 2019 around 2:00am when he spotted a man inside the passenger compartment of a Mustang on the parking lot of Best Motors on Fort Campbell Boulevard.
When approached by officers and asked what he was doing, he responded "Stealing".
«Read the rest of this article»
Clarksville Police Department (CPD)

Clarksville, TN – Clarksville Police charged three men in two separate incidents of vehicle burglary over the weekend.
In the first burglary, February 9th, around 11:00pm, Clarksville Police were called to a business on Hornberger Lane about a man being spotted inside of a fenced area going through vehicles.
When officers arrived, they saw a man inside of a vehicle in the fenced area.
«Read the rest of this article»

Montgomery County, TN – Deputies with the Montgomery County Sheriff's Office solved 14 burglaries near the Liberty Park Subdivision after apprehending the suspects late last night during surveillance.
"They were hitting us hard out there – 12 vehicle and 2 house burglaries – so we were being vigilant," said Investigator Geoffrey Blanchard. "I was out talking to a homeowner in the area around 10:00pm when I noticed a truck matching the description of a suspect vehicle."
«Read the rest of this article»

Montgomery County, TN – All suspects have been apprehended in the burglary of an abandoned building on Old Highway 48 that occurred on Monday.
Authorities apprehended two of the suspects shortly after the incident had been reported, and were found near the scene.
The third had fled the scene.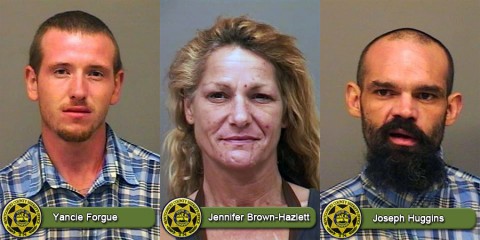 «Read the rest of this article»

Clarksville, TN – On Tuesday, June 4th, 2013, Clarksville Police Officers responded to a shoplifting call at Governor's Square Mall and the suspects were subsequently located eastbound on I-24.
Inside the vehicle was over $3300.00 of stolen merchandise from different merchants. A majority of the items still retained the anti-theft devices used to deter theft.

«Read the rest of this article»

Clarksville, TN – A man who was incarcerated August 3rd, 2011 for Theft, Burglary, and Violation of Probation was released from jail on May 22nd, 2012, failed miserably trying to go straight, and is headed back to jail today.
On June 1st, around noon, a property owner caught Kyro Lan Quinto red-handed in a nearly completed, new construction house at 1718 Cabana Drive trying to remove copper air conditioning tubing from inside the house. «Read the rest of this article»

Clarksville, TN – A man with a warrant for Violation of Community Corrections was taken into custody through a joint effort between City and County Law Enforcement Officers.
Deshawn Antonio Russell was already placed on Community Corrections for Aggravated Burglary, Drugs and Violation of Probation when he was charged with Possession of Burglary Tools and Simple Possession on March 26th, 2012. He was released from jail on bond, March 28th, 2012.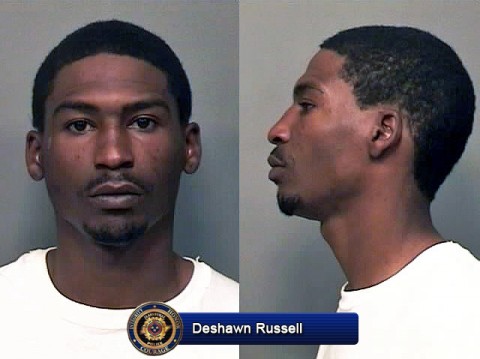 «Read the rest of this article»

Clarksville, TN – On January 24th, 2012, around 3:50am, Police responded to a burglary of a business in progress at Hardees, 1590 Fort Campbell Boulevard. Entry had been made through the drive-thru window.
When officers arrived, they spotted a backpack leaning against a dumpster on the outside of the business. As the officers approached the building, they saw a male, later identified as Ruslan Woodbridge, standing inside of the business near the drive-thru's cash register.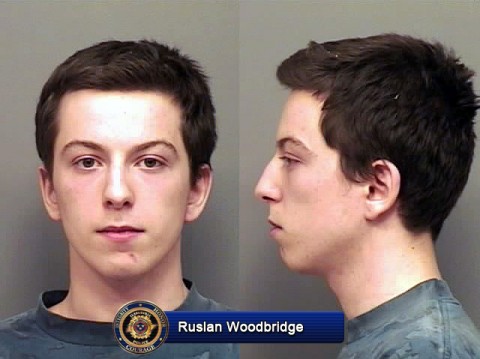 «Read the rest of this article»

On August 12th, 2010, a Judge released Michael Wayne Birdwell from jail on his own recognizance;  Birdwell was awaiting trial for Burglary. He was also on State Probation for Domestic Assault. It did not take Birdwell long to become acquainted with law enforcement again.  
On August 31st, 2010 around midnight, Officer Griffie Briggs noticed a vehicle pull behind some semi-trailers near Cunningham Plaza on Fort Campbell Blvd. When Officer Briggs went to check out the suspicious vehicle, he encountered Michael Wayne Birdwell coming out of the wood line from behind the group of trailers.
«Read the rest of this article»