Topic: Postmenopause
American Heart Association Meeting Report
New Orleans, LA – Repeatedly losing and regaining weight, known as weight cycling or yo-yo dieting, may increase the risk of death from heart disease among postmenopausal women who were of normal weight at the start of the study, according to research presented at the American Heart Association's Scientific Sessions 2016.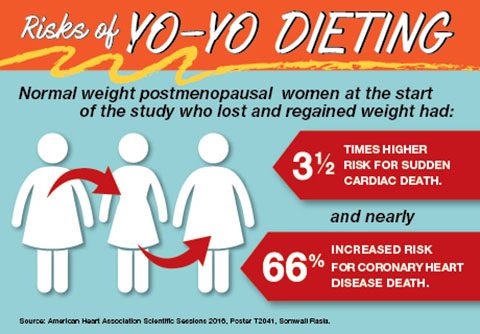 «Read the rest of this article»
Dallas, TX – Postmenopausal women who eat foods higher in potassium are less likely to have strokes and die than women who eat less potassium-rich foods, according to new research in the American Heart Association's journal Stroke.
"Previous studies have shown that potassium consumption may lower blood pressure. But whether potassium intake could prevent stroke or death wasn't clear," said Sylvia Wassertheil-Smoller, Ph.D., study senior author and distinguished university professor emerita, department of epidemiology and population health at Albert Einstein College of Medicine, Bronx, NY.
«Read the rest of this article»