Topic: Powdered Sugar
Nashville, TN – The bake sale tradition has benefited many worthy causes, but figuring out what to take can be challenging. Not just any recipe will work. It needs to look and taste delicious, but not need to be kept cool or made at the last minute.
"There are a lot of good options, but rather than going through the what-am-I-going-to-bake routine every time, consider creating a signature bake sale recipe," suggests the Martha White® baking expert Linda Carman. "Aim for a recipe that is dependable, uses basic ingredients and is something you can make in advance and freeze. Of course, you also want it to be so delicious that folks look forward to it every year. With your recipe selected and the ingredients on hand, you'll be ready to bake any time you get a request."
«Read the rest of this article»
Martha White® Announces Call for Entries for the 16th Annual National Cornbread Cook-Off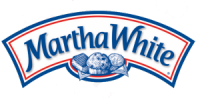 Nashville, TN – For many, the holidays are a time to gather with loved ones and enjoy delicious food. Cherished recipes are handed down through generations and memories are made around the table. Holiday recipes and family favorites made with cornbread now have another way to shine. In time for the holidays, Martha White® and Lodge® Cast Iron look to America's kitchens for original main dish cornbread recipes to be entered in the 16th Annual National Cornbread Cook-off.
"Your annual holiday baking may be the perfect source of inspiration for an original cook-off entry," said the Martha White baking expert, Linda Carman. "Everyone is impressed by traditional recipes with a twist, but ideas for your own original recipe can come from anywhere. Look around you for delicious inspiration."
«Read the rest of this article»