Topic: Stray Decorum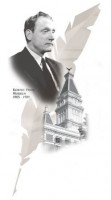 Clarksville, TN – If you weren't there, you should have been. Clarksville Writers' Conference attracted not only 70 or so attendees but a dozen or more published writers who brought to the stage star power no where else available in this area.
Take, for instance, Frye Gaillard, writer-in-residence at the University of South Florida and author of more than 20 books, who spoke at the superb gala dinner at The Point, the lovely dining room on the Cumberland River edge, just at sunset on Thursday night.
Gaillard reminded the hundred or more guests at the dinner that just across the river is Benfolly, the home of Allen Tate and Caroline Gordon, where the Fugitives, including luminaries like Robert Penn Warren, were fond of gathering.
«Read the rest of this article»