Topic: Tennessee house of Reporesentatives
Tennessee Representative Joe Pitts
Carbon Monoxide Awareness Day legislation advances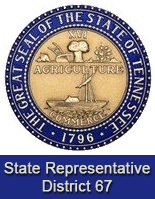 Nashville, TN – A bill designed to help veterans and their spouses find employment was defeated in the Consumer and Human Resources subcommittee of the Tennessee House of Representatives this week.
The bill, sponsored by Representative Joe Pitts (D-Clarksville), would have enabled private employers to create written policies giving preference in hiring honorably discharged veterans, their spouses, widows and widowers.
The bill failed by a quick voice vote with no questions or discussion by the committee.
«Read the rest of this article»