Topic: Tennessee House
Written by Curtis Johnson
Tennessee State Representative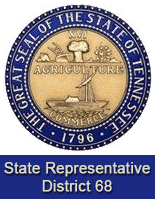 Nashville, TN – The Tennessee House passed several key bills this week, including the state budget and major legislation to curb opioid abuse, as the 2018 session of the Tennessee General Assembly draws to a close. The $37.5 billion "no growth" budget proposes state government spending for the next fiscal year that begins July 1st, 2018 and extends to June 30, 2019.
The balanced budget addresses opioid abuse, school safety, teacher funding, rural economic development and job growth, while allocating additional funds for the care of Tennessee's most vulnerable citizens. The bill focuses on the four "e's" of Tennessee: employment, education, economic opportunity and enforcement of the law.
«Read the rest of this article»
TN Together Fights Opioid Addiction through Prevention, Treatment and Law Enforcement
Nashville, TN – Joined by leadership from the House and Senate and Chief Justice Jeff Bivins, Tennessee Governor Bill Haslam on Monday announced an aggressive and comprehensive plan to end the opioid epidemic in Tennessee by focusing on three major components: prevention, treatment and law enforcement.
TN Together is a multi-faceted initiative that addresses the issue of opioid addiction through legislation, proposed funding in the governor's 2018-19 budget and executive actions.
«Read the rest of this article»

Nashville, TN – The members of the Tennessee Senate and House have re-elected Justin P. Wilson to serve as the Tennessee Comptroller of the Treasury. The vote by acclamation was taken during Wednesday's joint convention of the 109th General Assembly.
Wilson is Tennessee's 34th Comptroller of the Treasury and was re-elected to his fourth two-year term. He leads a staff of more than 500 employees.
«Read the rest of this article»
I have been researching some bills that have been proposed in the current legislative session. Being a tight budget year, most of the bills have no fiscal note. Please let your elected officials know your opinions on each of these  bills.
I have included links to each of the proposed bills, and provided a list of legislators to allow you to further research the issues. «Read the rest of this article»