Topic: Tennessee Stolen Valor Act
Written by Curtis Johnson
Tennessee State Representative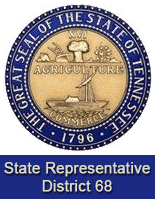 Nashville, TN – Wednesday morning, House members unanimously passed a measure to strengthen identity protections for our military veterans.
House Bill 2130, also known as the Tennessee Stolen Valor Act, is designed to safeguard the identities of Tennessee veterans who serve the state and nation by cracking down on instances of theft and fraud involving those who attempt to imitate them.
The measure creates a Class A misdemeanor, punishable by up to 11 months and 29 days in jail, as well as a fine of up to $2,500, for anyone who impersonates a veteran or individuals who fraudulently represent their service with the intent of obtaining money, property, services, or any other tangible benefits.
«Read the rest of this article»
Written by Curtis Johnson
Tennessee State Representative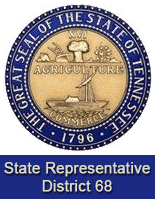 Nashville, TN -The House Finance, Ways, and Means Committee will begin their annual Budget hearings on Monday, February 12th. 2018. One of the first groups that is scheduled is Higher Education with Mr. Mike Krause testifying on behalf of the Tennessee Higher Education Commission.
Also scheduled to testify is Dr. Alisa White, President of Austin Peay State University.
The Tennessee Stolen Valor Act
The Tennessee Stolen Valor Act, House Bill 1779, makes impersonating a military veteran an offense and would be punished as a theft and graded as a misdemeanor or felony depending on the value of the money or property fraudulently obtained.
«Read the rest of this article»