Topic: Tennessee Yellow DOT Program
Written by Curtis Johnson
Tennessee State Representative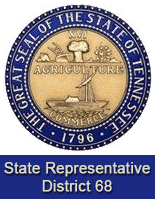 Nashville, TN – The first session of the 110th Tennessee General Assembly adjourned on May 10th, 2017, after passing major legislation that will benefit Tennesseans for generations to come. This is Part 9 of a 12 Part report.
This includes a measure making Tennessee the first state in the nation to offer all adults without a degree tuition-free access to community college; a new law rebuilding a safe and reliable transportation network, while reallocating revenues to maximize taxpayers' return on that investment; and a bill which provides a responsible path to improve access to broadband through investment, deregulation, and education.
Action in the General Assembly also included passage of a balanced budget which takes on no new debt, as well as legislation protecting the elderly, enhancing the state's robust job growth, cracking down on crime, and boosting efforts as the fastest improving state in the nation in K-12 student achievement. Following is a report on key legislation passed this year.
«Read the rest of this article»
Essential Information for First Responders in Emergencies

Clarksville, TN – Recently the Tennessee Department of Transportation (TDOT), with the help of Senator Jim Tracy (R-Shelbyville) and Representative Curtis Halford (R-Dyer), launched the Yellow Dot Program.
Tennessee is the tenth state to adopt this program. It has been adopted as a way for emergency personnel to have essential information about one's health during a medical emergency or accident.
When an individual enrolls in the Yellow Dot program they are given a packet. Inside that packet is a brochure of information about the program, a brochure where they can fill out their medical information, and a yellow circle sticker. «Read the rest of this article»
Stickers to Help First Responders Make Most of "Golden Hour"

Nashville, TN – The Tennessee Department of Transportation (TDOT) today launched the Yellow DOT Program, which is designed to assist first responders in identifying vital medical information for senior drivers.
The program features yellow stickers that are placed in the bottom left side of the rear window of vehicles and yellow envelopes containing a photo, medical history and prescription drug information for glove compartments. «Read the rest of this article»