Topic: Tom Garruto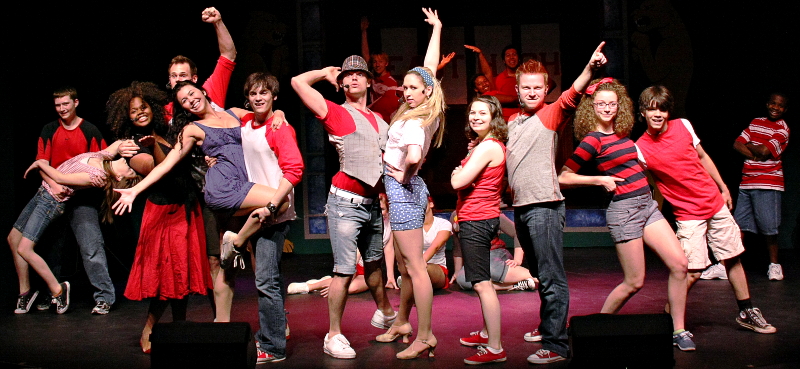 The Roxy Regional Theatre's opens their production of Disney's High School Musical 2 this evening. The show is based on the Disney Channel Original Movie written by Peter Barsocchini, the show is directed by Tom Thayer, and features choreography by Chi Lopes. Starring Aaron Riesebeck as Troy Bolton, and Mindy Wedner as Gabriella Montez, Maggie Politi as Sharpay Evans, and Bryan Zoppi as her Brother Ryan.  Q108's  Ryan Ploeckelman plays Mr. Fulton the manager of the Country club. The catchy and upbeat music was written by Matthew Gerrard, Robbie Nevil, David N. Lawrence, Faye Greenberg, Randy Petersen, Kevin Quinn, Jamie Houston, Andy Dodd, and Adam Watts. The production mixes professional actors and actresses with the talented kids from the Roxy's School of the Arts.
In this production, it's summertime and school is out for the East High Wildcats. Like most kids the Wildcats need summer jobs. Basketball Captain Troy Bolton not only lands a job at the local country club, but also finds positions for his girlfriend Gabriella and the rest of the Wildcats. When Troy starts to worry about his future, Sharpay takes advantage of Troy's situation to force a wedge between him and Gabriella, and schemes to prevent the Gabriella and the Wildcats from being able to challenge her in the Talent show.
A video used to be embedded here but the service that it was hosted on has shut down. «Read the rest of this article»
Gabriella, Troy and the rest of the gang are back at the Roxy Regional Theatre this spring for Disney's HIGH SCHOOL MUSICAL 2, opening April 9 at 8pm.
Celebrating the last day of their junior year, the East High Wildcats blast onto the summer scene with newfound jobs at the Lava Springs Country Club. Keeping every ounce of the light-hearted fun that makes HIGH SCHOOL MUSICAL a household name, this buoyant sequel takes on the questions of real kids facing the realities of the adult world. Friendships are tested, summer romances go haywire, and the meaning of success is redefined.
Directed by Tom Thayer and choreographed by Chi Lopes, Disney's HIGH SCHOOL MUSICAL 2 stars Mindy Wedner as Gabriella Montez and Aaron Riesebeck as Troy Bolton.
«Read the rest of this article»