Topic: Top Bluegrass Albums Chart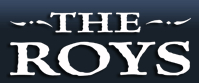 Nashville, TN – The Roys and Team RealTree™ Outdoor Energy Drink are going "pink" in support of Breast Cancer Awareness Month.  The brand launched their new Pink Lemonade Energy Drink in tandem with October's global month-long Awareness effort, and The Roys are thrilled to be sponsored by such a socially-conscious company.
«Read the rest of this article»
Grascals set to headline 26th Annual MACC Festival on Wednesday

Nashville, TN –The Grascals' version of the classic '60s pop smash, "The Last Train To Clarksville" premiered worldwide on AOL Music / The Boot (www.theboot.com) yesterday. The video for their current country and bluegrass radio single was directed by Marcel Chagnon (Clay Walker's "She Won't Be Lonely Long"), and was filmed at several Nashville locations in late June.
"We are always looking for ways to bring our music to the people," says Grascals' vocalist Jamie Johnson. "This is an historic day for bluegrass music. With the premiere of our video, this is the first-time ever AOL has premiered a bluegrass artist's music video and we are so honored to be the first."
«Read the rest of this article»