Topic: Toreos Mexican Foods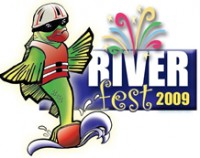 The weather on the second day of Riverfest turned out to be just as good as on the first. The full day of entertainment and wholesome family fun kicked off early with the Riverfest Regatta. The Regatta featured 26 teams racing custom made boats all crafted entirely from corrugated cardboard, Duct Tape, Silicone Sealant, Construction Adhesive, and paint.
This has to be one of the funnest events to watch during the entire festival. The shoreline was packed with people all on hand to cheer on their favorite teams.
«Read the rest of this article»