Topic: Tour D' Art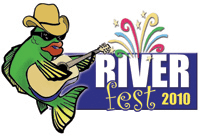 It's been several days after the end of the 2010 Riverfest Celebration, and for those who worked the two day festival, life is returning to normal. The hard working folks with the Clarksville Department of Parks & Recreation along the entertainers, and hundreds of volunteers ensured that the visitors could simply enjoy some good wholesome family fun.
This was the first year that Clarksville Online and Discover Clarksville was selected to document the festival as much as was humanly possible. Roland Woodworth, Ashley and Meghan Hamilton, and Bill Larson were given the job of photographing everything in the tiniest of detail, while Mark Haynes shot hours and hours of raw video footage, and Sue Culverhouse took it all in to get material for her wonderful articles!
«Read the rest of this article»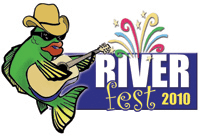 A former resident of the Boston and Washington, D.C. areas, I have been fortunate to see some great artworks in my life. I've also witnessed the recent "Emperor's New Clothes" variety (otherwise called "modern art" by some). My feelings towards some of the obscenities fostered on the public in recent years as "art" cannot be printed in this format. One only has to walk through the National Art Gallery where the display is chronological to see how talent somehow was replaced with publicity stunts to see how some artists have sold their souls to pure unadulterated "selling a bill of goods to the unsuspecting" to see what I mean.
«Read the rest of this article»