Topic: Tyler Thorton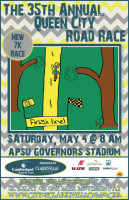 Clarksville, TN – On Saturday the City of Clarksville's Department of Parks and Recreation held their 35th Annual Queen City Road Race on the campus of Austin Peay State University, late yesterday they released the results of the races.
It was a rainy, cold, miserable of a day for running but that didn't stop the 1,650 Racers who turned out to challenge themselves by running in the race.
"It's absolutely awesome. It's amazing to me that 1,650 people would come out and brave the elements and participate want to run and walk and just get out be physically active! There's a lot of smiling faces and it's been a wonderful day, even despite the rain," said Clarksville Department of Parks and Recreation Director Mark Tummons, as we stood together at the finish line.
«Read the rest of this article»