Topic: U.S. Air Force Honor Guard
Fallen B-17E Bomber 'Swamp Ghost' unveiled at ceremony honoring America's war heroes.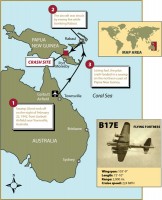 Long Beach, CA — It's a sacrifice Americans said they would never forget. And today, more than 68 years since a group of young U.S. servicemen in a B-17E Flying Fortress crash-landed in a primitive New Guinea swamp, a group of the air crew's surviving relatives and supporters will welcome home the fallen aircraft to honor the heroes of World War II.
A formation flyover by a vintage P-51 Mustang and P-40 Warhawk above the Long Beach Harbor will launch a ceremony to unveil the recovered bomber, nicknamed Swamp Ghost and known by historians as the Holy Grail of military aviation.
«Read the rest of this article»