Topic: Unemployed

Clarksville, TN –  Tennessee Job Seekers a statewide jobs-growth initiative designed to connect unemployed Tennesseans through social media was launched today by Tennessee State Senator Mark Green.
The program calls on the state and local communities to lend support, experience and resources to those either recently laid off or Tennesseans that are unemployed or under employed.
«Read the rest of this article»
Written by Joe Pitts
Tennessee State Representative, House District 67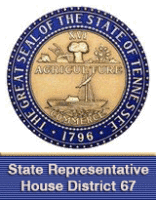 Nashville, TN – By now we have had our fill of economic instability, stimulus, downturn, volatility or insert word here, enough to last a lifetime. The old joke about economists having predicted nine out of the last three recessions rings hollow, but true especially if you are one of the unemployed, or underemployed, trying to avoid a fiscal cliff of your own.
So let's turn the page and change the subject. It is time for different ideas. Somebody, somewhere in Congress needs to offer something different. While members of Congress discuss tax cuts another idea is being overlooked.
«Read the rest of this article»
Staying asleep is the most common problem among all respondents; Survey reveals other sleep troubles & effectiveness of sleep treatments

Yonkers, NY -In addition to searching for full-time work, some unemployed Americans may also be looking for a good night's rest.
According to a new survey of Consumer Reports' readers, unemployed respondents were more likely to say they had trouble falling and staying asleep than those with jobs? 69 percent and 59 percent respectively. «Read the rest of this article»

Draughons Junior College in Clarksville hosted their annual career fair on June 5th. The event brings local agencies and employers together with hundreds of  people who are actively seeking employment.
Some like Barbara Lucas had been looking for work (in the legal field) for over 6 months. She is currently considering returning to school. Jonathan Ligon said he was laid off 5 months ago, since then he has been unsuccessfully looking for work as a welder.  Beverly Cossingham unemployed for five months, is looking for an administrative or clerical positions. However, Katie Nolan probably summed it up best.  "I am looking for anything at this point, anything", she said.
«Read the rest of this article»