Topic: unemployment insurance
Update on Tennessee Unemployment Insurance Modernization Provisions
Nashville, TN – Since June 2010, eligible unemployment insurance claimants supporting minor children have been receiving $15,00 per child, to a maximum of $50.00, as a dependent allowance added to their weekly unemployment benefit amount.
Those dependent allowance payments will end soon as a result of legislation signed by Tennessee Governor Bill Haslam that becomes effective July 1st, 2013. «Read the rest of this article»
Final update detailing the first session of the 108th General Assembly
Food, Clothing, and Hygiene Drive to support the Austin Peay State University Food Pantry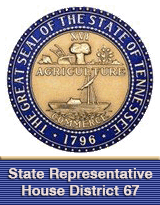 Nashville, TN – House Bill 32, License Plates for our Veterans and Active Duty Military.
House Bill 32, sponsored by Tennessee State Representative Cameron Sexton (R-Crossville) will make some changes, effective July 1st, 2014, to the issuance of license plates to our active duty military and veterans who receive honors and awards such as the Purple Heart, Silver Star, Air Medal, and Medal of Honor.
The most substantial change is moving the Air Medal plates to the category of military cultural license plates.  This category also contains other license plates such as the Silver Star and Bronze Star.
«Read the rest of this article»
Charter School and Virtual School Legislation take the spotlight this week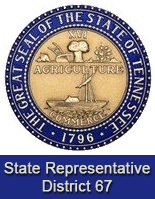 Nashville, TN – Tennessee State Representative Joe Pitts (D-Clarksville) will propose an amendment to House Bill 0151/Senate Bill 0157 proposed by the Department of Education regarding virtual schools.
The administration's proposal to address poorly performing virtual schools will allow the Department of Education to institute enrollment caps, or direct the local school district to close the virtual school if it fails to achieve certain student growth benchmarks two academic years in a row. «Read the rest of this article»
Nashville, TN – The Tennessee Department of Labor and Workforce Development is advising approximately 39,000 unemployment claimants who are receiving federally extended unemployment insurance that their benefits will cease the first week of January 2013.
Emergency Unemployment Compensation (EUC08) is a federally-funded program, which provides unemployment benefits to individuals who have exhausted the first 26 weeks of state benefits (maximum). «Read the rest of this article»
Law Encourages Businesses to Hire Vets and Helps Vets Find Work
Nashville, TN – The Vow to Hire Heroes Act of 2011 amends and expands definitions of the veteran target groups for employers hiring veterans through the Work Opportunity Tax Credit program.
"The Vow to Hire Heroes Act provides tax incentives for employers to hire both short-term and long-term unemployed veterans and affords larger tax credits for hiring certain categories of veterans," said Labor & Workforce Development Commissioner Karla Davis. "The extension of the veterans' category of the Work Opportunity Tax Credit is a needed strategy to increase employment opportunities for veterans and to reduce the unsatisfactorily high unemployment rate of veterans." «Read the rest of this article»
House budget hearings scheduled to continue throughout next several weeks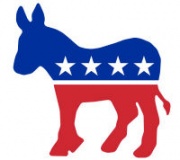 "Governor Bredesen offered the House a good starting point for this year's budget discussion," said State Representative Joe Pitts (D-Clarksville).
During a joint session of the Tennessee House and Senate on Monday, Governor Phil Bredesen delivered his draft of the state's budget for the 2009-2010 fiscal year, including budget projections for the next four years. «Read the rest of this article»