Topic: U.S. Flag Code
City and County Mayors' Proposal, while noble, oversteps the authority of their office. The U. S. Flag Code delegates half-staff order authority to the president.
Recently our city and county mayors announced plans to fly the national flag at half-staff on a monthly basis. They proposed to do this in honor of our fallen soldiers. The gesture certainly strikes an undeniably appealing accord. It is, without a doubt, noble in its initiative.
It would unquestionably be a notable, emotional salute to our military personnel, especially in light of the fact that soldiers from Fort Campbell and the 101st Airborne Division are facing daily peril in the Iraq and Afghanistan war theaters.
However, upon closer review, there is cause for reconsideration of this action. The flying of our nation's flag is governed by specific and strict protocols that must be observed. «Read the rest of this article»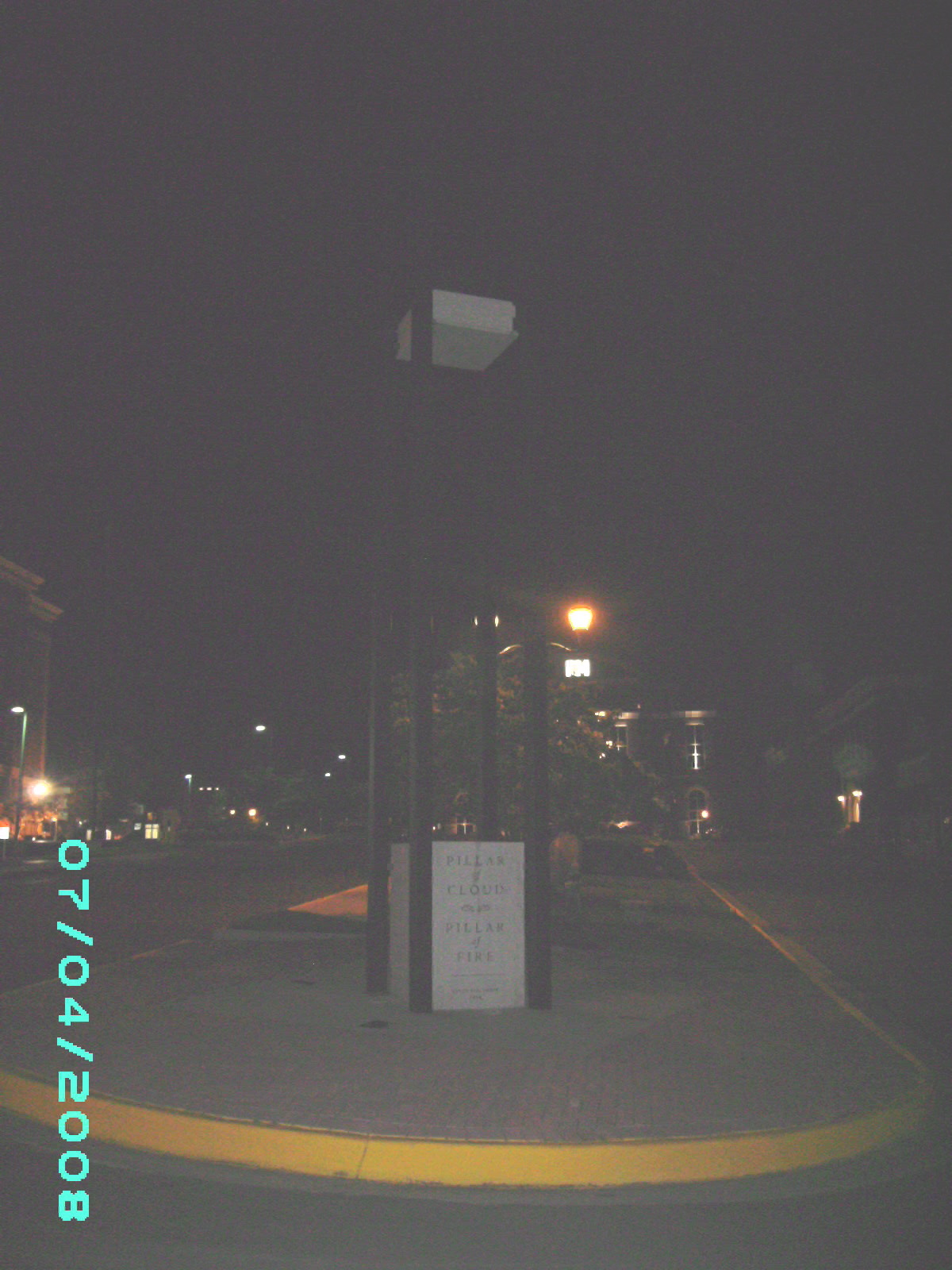 The Pillar of Cloud, Pillar of Fire  aka the Eternal Flame was conspicuously AWOL on July 4th! Our Eternal Flame seems to spend most of its time unlit. What does this signify about our dedication to "Supporting Our Troops!"
As the Independence Day weekend moves on, the smoke from fireworks has dissipated and the residue from our recent fireworks show have been cleared away. The traffic jams cleared up, and we each go on our merry way. Yes, the city's celebration was quite a sight. And as noted in previous coverage here, the Pillar of Cloud, Pillar of Fire Eternal Flame Memorial was burning bright and strong at 11:30PM on July 3rd. The flags at City Hall were still sadly un-illuminated but the eternal flame did shine for that night. Hallelujah!!!
Alas, it was too good to last. It was not burning during the daylight hours on our nation's birthday, and when the evening of July 4th dawned upon us the flame was still NOWHERE TO BE SEEN. It was AWOL again! We took date stamped photographs to verify this.
Are our public officials really committed to keeping our pledge to light the flame, and in doing so honoring our fallen military personnel? Or is this just a "showpiece" there only to be utilized during special promotions and city events? «Read the rest of this article»
The United States flag properly illuminated
With Memorial Day and Flag Day behind us and July 4th just ahead, the proper display of our national symbol takes center stage. A recent late night driving tour around our city revealed that there are many locations where our national flag is on display after sunset. We commend all who seek to demonstrate this patriotic effort. We found several private residences and business operations which were compliant with the U.S. Flag Code.This means that they have installed spotlighting which, after sunset, clearly illuminates the flag. Above we show an example of proper nighttime illumination of the flag. «Read the rest of this article»