Topic: apples
Written by John Shea
Director of Public Affairs, Risk Management Agency
Washington, D.C. – Federal crop insurance provides the risk management tools necessary for American farmers to stay in business after a difficult crop year. They can be the difference between a farmer going under because of a lean year or having a safety net that allows them to keep farming and rebuild.
These tools help farmers who rely on good farming practices for smart land use and preserve economic stability for generations.  And the Risk Management Agency (RMA) has worked hard to extend risk management tools for organic producers. «Read the rest of this article»
Nashville, TN – It's back-to-school time in Middle Tennessee! Here's your first lesson of the new school year: how to pack a lunch that will keep the kids healthy and happy, increase the fruits and veggies, lower saturated fat, sugar and sodium – and fit your wallet.
The American Heart Association has budget-friendly, creative ideas to satisfy both kids and parents:
«Read the rest of this article»

Nashville, TN – After a long, cool, rain soaked spring, Tennessee's typical hot and humid summertime weather is here. The sudden shift is helping the state's crops make up for lost time, which is especially beneficial to the farmers who grow much anticipated local berries, peaches, plums, apples and pears.
Tennessee's berry crops, formerly in slow motion, have responded to ideal summer conditions by maturing at top speed, according to TDA's agritourism and farmers market coordinator, Pamela Bartholomew.
«Read the rest of this article»

Nashville, TN – Despite weather challenges in 2012, Tennessee apple orchards will yield about 7.5 million lbs. of apples for harvest before a hard freeze ends the season. Typically the state produces closer to 9 million lbs. of apples between June and the end of October.
This is good news for lovers of local, seasonal foods, who know that apples are one of the few foods that can be stored fresh through the winter.
«Read the rest of this article»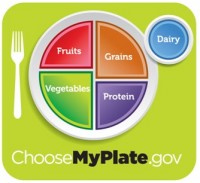 Washington, D.C. – Food is expensive, but preparing your own meals can be healthier and less expensive than eating out.
Get the most for your food budget! There are many ways to save money on the foods that you eat. The three main steps are planning before you shop, purchasing the items at the best price, and preparing meals that stretch your food dollars. «Read the rest of this article»
American Heart Association tips for eating healthy, in and out of school
Nashville, TN – Your kids may be book-smart – but do they get an "A" in smart eating?
With the high incidence of children in Tennessee affected by obesity, diabetes, high blood pressure and even stroke, making those healthy choices is important, starting as early as possible.
Research shows eating a diet high in fruits and vegetables has significant, measurable benefits on cardiovascular health, and that a diet with high amounts of added sugar, unhealthy fats and sodium increases risk factors, even in children. «Read the rest of this article»

Yonkers, NY – Nothing we eat is 100 percent safe, but there are easy ways to cut your risk of getting sick. The July 2012 issue of ShopSmart magazine, from the publisher of Consumer Reports, features an easy three-step guide with simple tips that can improve your food-cleaning and storing know-how.  «Read the rest of this article»
Dallas, TX – Apples and pears may keep strokes away.
That's the conclusion of a Dutch study published in Stroke: Journal of the American Heart Association in which researchers found that eating a lot of fruits and vegetables with white flesh may protect against stroke.
While previous studies have linked high consumption of fruits and vegetables with lower stroke risk, the researchers' prospective work is the first to examine associations of fruits and vegetable color groups with stroke.
The color of the edible portion of fruits and vegetables reflects the presence of beneficial phytochemicals such as carotenoids and flavonoids. «Read the rest of this article»

Nashville, TN – The first documented great idea that ever fell out of a tree took place in 1666, when a falling apple inspired Sir Isaac Newton to formulate some theories about gravity. Great ideas can still fall out of trees—like the idea to make traditional holiday recipes fresh and local with ingredients like apples and pecans.
Apples and pecans fall in Tennessee just in time for the holiday season, bringing a bright, clean taste to dishes sometimes weighed down with heavy herbs and gravy. Using local, seasonal foods at holiday meals is a great way to celebrate the grateful spirit of the early Americans who first feasted with them.
American holiday dishes are still anchored firmly in 18th century New England, featuring Old World herbs and staple foods made new with ingredients that were close at hand. English colonists, and later, citizens of the new republic, used local game and seafood with newfangled produce like pumpkins and corn, creating foods that expressed their newfound sense of self sufficiency and abundance. «Read the rest of this article»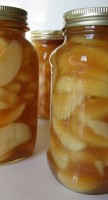 Apple season is pretty much over in Clarksville, but you can still find a few bushels of apples here and there for sale.  If you find them for a great price, you can do lots of things to preserve them.  Some of the ways I preserve apples are:
Drying
Wrapping and storing fresh
Apple Butter
Canning with a pie filling
I'll show you how to dry apples, make apple butter and even make decorations with dried apples in future articles and how to store fresh apples all winter in another. Today I want to share this delicious pie filling recipe. You'll love having it in your pantry this winter.
If you have never canned anything at home, you will want to find and purchase a Ball Bluebook Guide to Preserving before you attempt these instructions. Home canning is fun and helps save money, but it must be done correctly to keep your family safe from botulism and to keep yourself from getting burned or injured in the process. «Read the rest of this article»