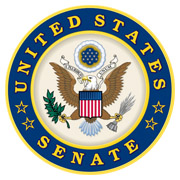 Nashville, TN – Middle Tennessee and East Tennessee are both home to some of the prettiest country in the state–and some seriously hard workers! I spent another week hearing from local leaders and business owners about some of the area's biggest challenges, and brainstorming ways to keep the economy thriving.
I stopped by the female-owned Crescent Sock Company in McMinn County. The owners' ancestors played a big role in the women's suffrage movement. Cathy and Sandra are descendants of Harry T. Burn, a local lawmaker whose vote made Tennessee the 36th and final state needed to ratify the 19th Amendment.
«Read the rest of this article»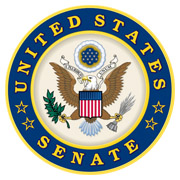 Washington, D.C. – I'm not sure who decided to call the Senate's August work period "recess," but it could use a rebrand. I'm using this month to reconnect with Tennesseans from all corners of our great Volunteer State.
This past week, I visited Middle Tennessee, and received updates from local businessmen, health care professionals, and local officials who are tuned in to the region's many successes, and emerging opportunities for growth.
Tennessee's strong workforce, right-to-work law, and central location make companies eager to set up shop.
«Read the rest of this article»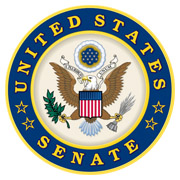 Washington, D.C. – The U.S. Senate may be out of session, but Senator Marsha Blackburn hasn't slowed down one bit! The Senator is spending August in Tennessee meeting with the people she serves and working to determine what she can do in the Senate to make each day better for her state.
Her state visits began in West Tennessee, where she met with fishermen and local officials at Sinclair's Fish Market in Paris to discuss the problems posed by Asian carp. Senator Blackburn then stopped by UT Martin to meet with Chancellor Keith Carver and members of their Army ROTC program.
«Read the rest of this article»
Nashville, TN – Saturday morning, someone walked into a mall in El Paso and started shooting. 20 dead 26 injured. Less than 24 hours later someone walked into a bar in Dayton and started shooting. 9 dead 27 injured.
Virginia Tech. Sandy Hook. Orlando. Las Vegas.
32. 27. 49. 58.
We are beyond crisis.
American children are afraid of school. Not because of bullying, or worrying about a math test. They're afraid of being shot.
«Read the rest of this article»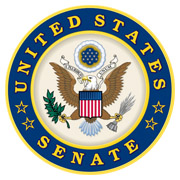 Washington, D.C. – U.S. Senators Marsha Blackburn (R-Tenn.), David Perdue (R-Ga.) and Cindy Hyde-Smith (R-Miss.) introduced S. 2430, the Paving the Way for Rural Communities Act of 2019 to remove outdated, burdensome regulatory hurdles from rural areas. This will increase rural communities' access to better economic opportunities and infrastructure projects.
"Tennessee's rural communities are the heart of our state's agriculture businesses. We should not have laws in place that hinder, rather than help, economic development in these areas," said Senator Blackburn.
«Read the rest of this article»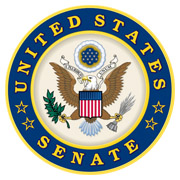 Washington, D.C. – Today, August 5th, 2019, U.S. Senator Marsha Blackburn (R-Tenn.) released the following statement after the mass shootings in El Paso, Texas and Dayton, Ohio:
"The mass shootings in El Paso and Dayton were horrific tragedies perpetrated by evil individuals, and I condemn all forms of hate and hateful acts of any kind. The actions of law enforcement officers and first responders in stopping both shooters saved lives and allowed the wounded to get immediate care.
«Read the rest of this article»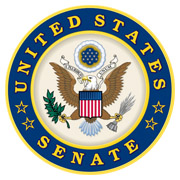 Washington, D.C. – Washington's spending habit is counterproductive. Common sense tells us, don't treat taxpayer dollars like Monopoly money, and that's why on Thursday, I voted against bloated, inefficient and wasteful federal spending.
Tennesseans rightly worry that the closure of rural hospitals will leave them without access to health care. My Rural Health Agenda comes directly at the request of small town mayors and community leaders, and fills gaps left by hospital closures. It ensures quality care is accessible closer to home for rural Tennesseans by targeting areas that need improvement.
«Read the rest of this article»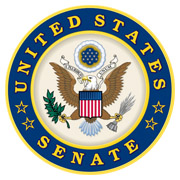 Washington, D.C. – Senator Marsha Blackburn (R-Tenn.) introduced her Rural Health Agenda, aimed at addressing health care delivery challenges in rural America to maintain quality care close to home.
The Rural Health Agenda includes three bills: the bipartisan Rural America Health Corps Act, cosponsored by Senators Dick Durbin (D-Ill.), Kevin Cramer (R-N.D.), Doug Jones (D-Ala.) and Lisa Murkowski (R-Alaska); the Rural Health Innovation Act, cosponsored by Senator Murkowski; and the Telemedicine Across State Lines Act, cosponsored by Senator Cramer.
«Read the rest of this article»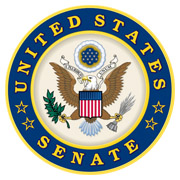 Washington, D.C. – On Tuesday, July 30th, 2019, Senators Marsha Blackburn (R-Tenn.) and Jon Tester (D-Mont.), unveiled bipartisan legislation to improve the information technology (IT) system at the Department of Veterans Affairs (VA).
The Department of Veterans Affairs IT Reform Act holds the VA accountable by increasing transparency into proposed and current IT spending on critical programs for veterans. The bill also ensures that veterans receive timely health care and benefits by requiring the VA to institute a number of outstanding Government Accountability Office (GAO) recommendations related to planning, management and operation of its Office of Information Technology (OIT).
«Read the rest of this article»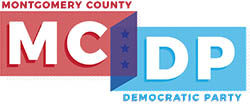 Montgomery County, TN – The Montgomery County Democratic Party invites the community to hear prominent political figures discuss key issues on relevant topics affecting our state and country.
Panel participants will be U.S. Senate Candidate James Mackler, Justin Kanew of The Tennessee Holler, and State Representatives Jason Hodges (Clarksville), Darren Jernigan (Nashville), and London Lamar (Memphis).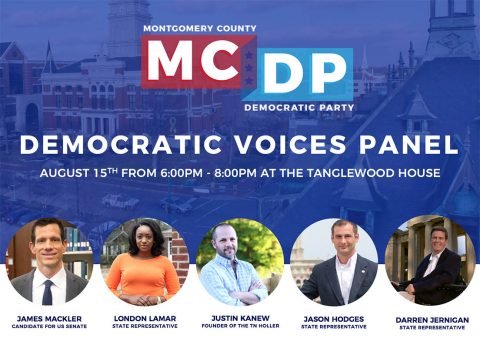 «Read the rest of this article»