Topic: bubba Starling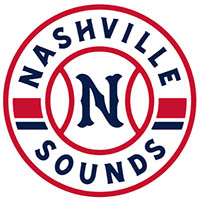 Omaha, NE – The Nashville Sounds lost 10-5 Sunday afternoon and was officially swept by the Omaha Storm Chasers. It was a close game through the first half of the game until Omaha pulled away from Nashville.
The first lead of the series for Nashville was taken in the first inning when Christian Lopes singled to score Scott Heineman. Omaha came back in the bottom of the first inning with two runs. They scored twice with the bases loaded when Jorge Bonifacio was hit by a pitch and Bubba Starling walked in a run to put Omaha up 2-1.
«Read the rest of this article»
Nashville Sounds
Papillion, NB – A pair of errors from Sounds second baseman, Joey Wendle, cost Nashville dearly as the Omaha Storm Chasers eked out a 4-2 victory Thursday night. The loss meant a series split for the Sounds who were seeking a third consecutive series win.
The first error of the evening from Wendle came in the first inning as he was playing in shallow right field with the shift on against left handed hitting first baseman Ryan O'Hearn was at the plate. The error allowed Ruben Sosa to come around to score to put Omaha out in front.
Nashville responded with a run of its own in the next half inning as Renato Nunez doubled to begin the frame, advanced to third on a Matt Chapman single, and scored on a sacrifice fly from Jaff Decker.
«Read the rest of this article»
Papillion, NB – The Nashville Sounds scored all seven of their runs on three home runs to rout the Omaha Storm Chasers 7-0 Tuesday afternoon at Werner Park.
Renato Nunez, Josh Rodriguez and Colin Walsh each hit a home run in the Sounds win. Nunez clubbed his 22nd homer with a solo shot in the first, while Rodriguez added a grand slam in the second and Walsh smashed a two-run blast in the fifth.
After Jaycob Brugman led off the game with a single, it was quickly erased when Walsh grounded into a 4-6-3 double play. With two outs in the first, Nunez unloaded on a 2-2 breaking ball to give the Sounds an early 1-0 lead.
«Read the rest of this article»
Papillion, NB – Jaycob Brugman delivered a tie-breaking two-run double in the top of the ninth inning to send the Nashville Sounds to an 8-6 win over the Omaha Storm Chasers Saturday night at Werner Park.
Brugman's clutch hit finished off a 3-for-4 night in which he drove three runs and scored another. Josh Rodriguez helped the cause with a 3-for-3 night with three runs scored. The two also combined to draw four walks.
At 73-55, the Sounds' magic number is at eight with 16 games to play. They lead second-place New Orleans by nine games in the American Southern Division standings.
«Read the rest of this article»