Topic: Refreshments
Clarksville, TN – Looking for something to do this weekend in the Clarksville Montgomery County area? There are several events going on this for children, adults, friends and family.
Some of this weekends events include: Lone Oak Picnic, Toy Day at the Customs House Museum, "South Pacific" playing at the Roxy Regional Theatre and several more. Below is a complete list of upcoming events.
«Read the rest of this article»

Woodlawn, TN – The Woodlawn Volunteer Fire Department will hold their 25th Anniversary Party Saturday, June 8th. The party is from 10:00am until 2:00pm at the station house. There will be equipment displays, fire trucks, inflatables and refreshments. Everyone is invited.
The Woodlawn Volunteer Fire Department station house is located at 2274 Woodlawn Road right next to Woodlawn Elementary School.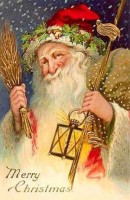 Clarksville, TN – Santa Claus paid a visit to the Crow Community Center Monday night, December 19th. From 6:00pm to 7:00pm, children came to sit on Santa's lap and told him all the things they wanted for Christmas.
Santa Claus wanted to give the kids a personal Christmas message, "I want everyone to have a safe and happy Christmas! Just do what your parents tell you, be good, and I will bring your presents to you." He continued "One little girl told me she wanted a puppy, a little small puppy. I told her if she's been good, and keeps being good, that she would probably get her gift.
«Read the rest of this article»


Clarksville, TN – The Kleeman Community Center and the Leadership Enlightenment Academic Achievement and Perseverance Organization (L.E.A.P.) will present Storytellers on November 20th from 6:00pm until 7:00pm at the Kleeman Center, located at 166 Cunningham Lane. «Read the rest of this article»
Clarksville, TN – Dunbar Cave's annual "Cooling at the Cave" event is this afternoon. The Friends of Dunbar Cave present music, games and refreshments at the cool cave entrance. Refreshments for a donation, t-shirts and postcards available to purchase.
Everything starts at 3:00pm and continues until 5:00pm. Red River Breeze will be at the cave entrance playing celtic music.
So come out and enjoy natural air conditioning and show your support for Dunbar Cave.