Pride and Prejudice. Persuasion. Sense and Sensibility. These literary classics poured from the pen of Jane Austen, whose life is skillfully recounted in the new film, Becoming Jane.
Jane views the world in words, words she scripts in longhand with a fountain pen, page after page, playing out the timeless stories readers have loved for generations. Stories equally at home on screen in the hands of the finest filmmakers. Magical words.
This newest film, though, tells not one of Austen's stories but of her own life and the people within it who became the inspiration for many of the world's most beloved literary figures. Any shortfalls in historical depth or variations in truth can be forgiven (for no 112 minute film can do this justice); simply sit back and meander through the life that was Jane Austen.
From the beginning, Jane was a writer, much to the consternation of family who place a far higher value on marriage to a wealthy man, with or without affection. As the characters say:
What is she doing?

Writing!

Can anything be done about it?
Thankfully not. In Becoming Jane, Anne Hathaway (above, writing) is Austen, all serene beauty, dark eyes, the kind of face and figure that attracts men from all levels of society. But Jane is bent on writing, even as her mother (Julie Walters) thinks she's as foolish as a girl can get.
Austen is immune to romance until Thomas Lefroy (James McAvoy, at right with Hathaway) appears, charming her and turning her world upside down with romantic passion. The chemistry is intense, but alas, he'll lose his fortune if he marries her. In the face of multilateral opposition from both family, the couple run away, though Jane, realizing the impact of a lost inheritance on the relatives Lefroy supports, returns home, sad, chastened, and destined to be alone.
As the tale unfolds, those familiar with the Austen books and films thereof will recognize the source of favored characters: Pride and Prejudice's aloof, brooding and passionate Darcy, the foppish simpering Mr. Collins, the imperial arrogance of Lady Catherine de Bourgh, the dastardly Mr. Wickham, and Sense and Sensibility's dashing Willoughby. Bits and pieces of characters in random order, some destined to be mixed and matched, are first presented here as the threads in the fabric of Austen's life.
We see a wonderful performance by Maggie Smith as Lady Gresham, the de Bourgh prototype, with James Cromwell (at left with Julie Walters) as an ever patient Rev. Austin, who seems to the be family link to wit and wisdom as evidenced most brightly by Jane. Anne Maxwell Martin is beautifully cast as Jane's sister, Cassandra, whose fiancee is killed in the months before their wedding.
As evidenced in the Merchant-Ivory productions of the early 90s, and lavish presentations on PBS, Bravo, A&E television and the BBC, this film has visual depth, texture, and beauty even as it shifts between worlds of elegant wealth and the working class realities of the middle/lower class, we are gifted with texture.
The piano Jane plays at sunrise may not be a full-sized polished grand but its music fills the quiet morning room with a blaze of joy. The home the Austens occupy is, simply, a minister's home, with barnyard and garden and adjacent forest, just a few miles from the mansion that is the model for Pemberley.
The old-growth forests the characters wander are almost tropical, with towering canopies shielding life from the sun, wrapping it in a cocoon of lush ferns, abundant undergrowth, teeming with life that mirrors the emotions of the players. The mazes remind us of the convoluted twists and turns life presents to us, and offers a cautionary hint about losing ourselves along the way.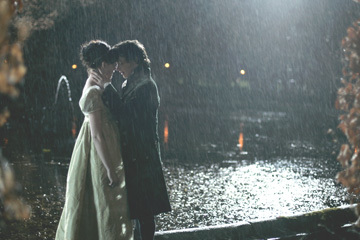 As I watched Becoming Jane, I found myself planning to prioritizing my viewing by reverting to still another visit with the A&E mini-series version of Pride and Prejudice (which comes in at just under five hours), another tryst with Sense and Sensibility and Alana Richman as Colonel Brandon, a 14th or 15th peek at Persuasion … you get the idea. The only one I might skip is the most recent Pride and Prejudice film with Kiera Knightley, which with the expedience required to make modern films "marketable" managed to mangle the finer details and eliminate all the nuances that make the longer, more leisurely productions so intriguing.
Jane Austen lived in a time where middle and upper class women, with few exceptions, were entirely dependent on men, where marriage for money held the highest importance, where humor was a gift but sharp wit a character flaw [in women].
As in the books she wrote with such craft and diligence, Austen lived with class differences, with aspirations of independence, and with betrayal.
Becoming Jane offers viewers an artistically presently window into her life, and the events which inspired the characters so many of us have grown up with. It's not the most accurate, nor the best of its kind, but it wraps you in a shawl of familiarity, charms you with its grace and elegance, and makes you smile with each revelation of her future characters. I will buy it. Watch it. More than once.