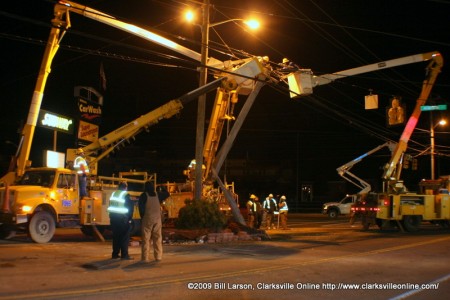 A mid-day traffic accident on a major Clarksville thoroughfare caused an afternoon traffic nightmare for many local drivers. Over the course of several hours, traffic in the Hilldale area was redirected as emergency crews sought to repair the damage to street lights, traffic lights and utility poles.
According to an on-site CPD patrol officer, a truck hauling finished lumber boards, driven by an experienced driver, suffered a shift in its load at the intersection of Madison Street and Golf Club Lane.
The load shift caused the driver to lose control of the rig and overturning the truck and spilling its load. At least one utility pole was destroyed. Area traffic was affected for the remainder of the afternoon into the evening while emergency crews managed the cleanup and utility repair.
The Clarksville Transit System (CTS) implemented its emergency routing and backup vehicle support system to lessen the delays to its scheduled bus routes.
As of 7:15 PM, repair crews were still on site with Clarksville Police Department patrol cars present and roadblocks closing off access to Golf Club Lane from Madison Street and Memorial Drive. The on-site CPD officer did not know the condition of the truck driver at the time of our coverage.