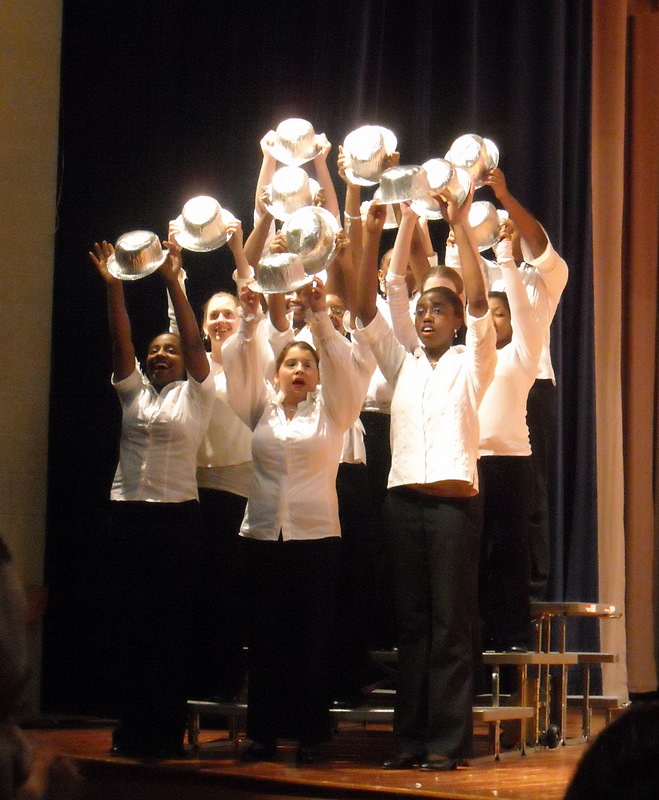 NEHS Exit One, Concert and SSA Women's Choir chosen to open for The Haywood Family Show in Branson, Missouri.
After two months of intensive rehearsals in both voice and choreography, to say nothing of the memorization involved, Broadway came to Clarksville Thursday evening as the Northeast High School Choral Department presented its Spring Show 2009 in the NEHS auditorium.
The show will also be presented Tonight at 7 p.m. and on Sunday, March 22, at 3 p.m. Admission is $5 per adult, $3 per student.
It's a show that has something extra this year when the Exit One Show  Choir, the Concert Choir  and the SSA Women's Choir travel to Branson, Missouri in April to perform as the opening act for the Haywood Family Show, with a selection of routines from the current show to be performed and taped "on tour."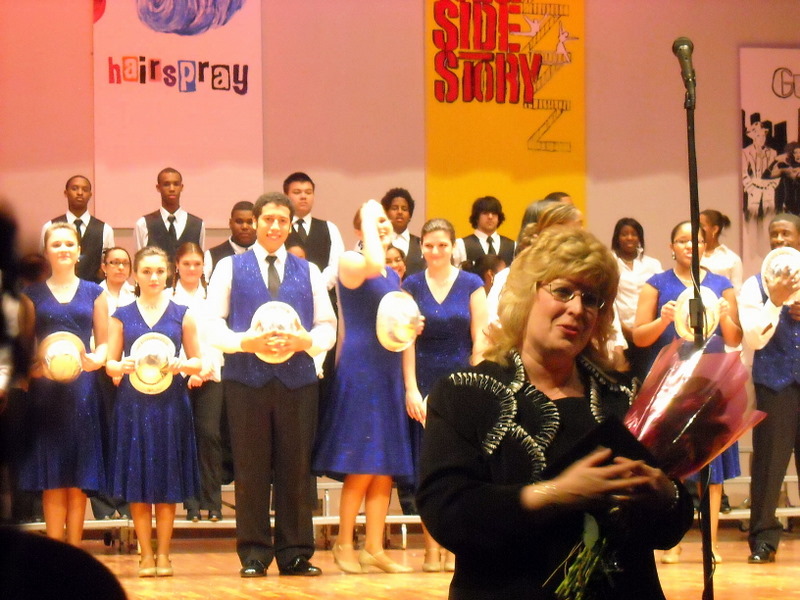 Choir mistress Debbie Wilson submitted tapes of last year's show to officials in Branson, tapes impressive enough to win an invitation to appear in this famous family musical production. "It's a first for us, and I am so proud of these kids," Wilson said.
The current production features the Beginning Choir in a selection of music from Sinner Man to Turtle Dove and Send Down the Rain, with all choral groups in ensemble  — young men in black tuxedos , young women in black and whire gowns. An elegant start.
Three students served as guest conductors for that segment of music: Khiry Wilson, Shenteria Williams, and Humberto Figueroa. Accompanist was Angel Broady and Lacy Wilson.
The Women's Choir does a bit of Andrew Lloyd Webber before turning up the heat with a stunning, sultry rendition of At Last sung by Sheteria Williams. That "showstopper" was just the beginning.
As the three key choir began to strut their stuff, they honored "100 Years of Broadway," beginning with Richard Rogers legendary  South Pacific, complete with rapid costume changes for lively presentations I'm Gonna Wash That Man Right Out of My Hair and There is Nothing Like a Dame.
A touch of Leonard Bernstein comes in the form of I Feel Pretty from West Side Story. More costumes and choreography overruns the stage in Guys and Dolls, with a snappy Bushel and a Peck ( a terrific and charming performance by lead vocalist Sara Schichtel), and Luck be a Lady.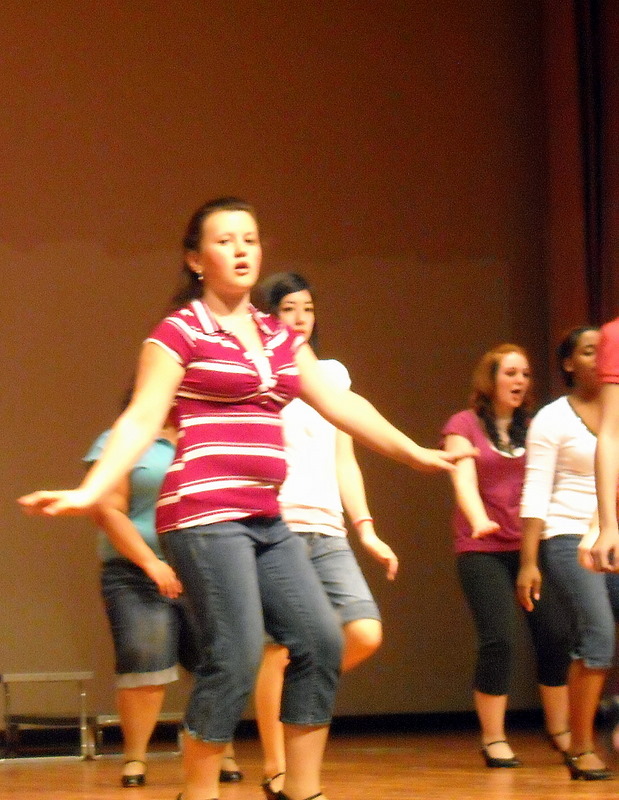 After a brief intermission, the show continued with Dreamgirls, and a steaming medley from Smokey's Joe's Cafe. Pop numbers for Hairspray were followed by a spoof of Beauty and the Beast titled Beauty's Been Decreased, performed by Humberto Figueroa.
Webber's Jellicle Cat from CATS was the only "canned music of the night, a lively version to which the players spent all their energy of delightful choreography.
Hailey Johnson stepped into the spotlight for a lovely rendering of Somewhere Over The Rainbow.
Rounding out the night of music was the classic One from A Chorus Line, complete with sparkling fedoras and some precision footwork.
These students returned from their 2008 Christmas break to a grueling 2009 schedule in early January, working after school every night plus Saturdays for two solid weeks with choreographer Amanda Batts. A complex rehearsal schedule continued to keep  students at school dozens of extra hours a week, with a second round of choreography prior to the performance dates.  As grueling as the musical schedule is, acceptance into the choir also requires that each student maintain a certain grade point average to participate. And raise funds for their trip in the process. The thoroughness of their  training was evident Thursday evening: this was no "stand up and sing" show — these student worked, mastering dance moves including swing and the movements that accompany traditional Broadway song and dance shows. With this show on the heels of a stunning Christmas concert, NEHS and its choirs  have  raised the bar.
We at Clarksville Online wish them well in Branson, Missouri.
Photos by Christine Anne Piesyk