Austin Peay State University will break ground next week for a new residence hall complex.
A brief ceremony will be at 1 p.m., Monday, Nov. 2 in the gravel lot off of Marion Street near where the new $25.5 million complex will be built. The 416-bed facility will replace three existing residence halls on the APSU main campus: Cross, Killebrew and Rawlins, which now house a total of 392 students.
The public is invited to attend the ground breaking.
«Read the rest of this article»
Thursday-Friday, November 5-6, 2009

The Clarksville Gas and Water customer service center located at 2015 Fort Campbell Boulevard will be temporarily closed on Thursday and Friday, November 5th and 6th, for building maintenance. The center plans to reopen on Monday, November 9th, however work may continue into the following week delaying the reopening. Signs with the reopening date will be posted at the center. The department values every customer and appreciates their patience and understanding during the necessary work.
Customers are invited to visit the South Service Center at the department's main location at 2215 Madison Street which offers all the same services as the Fort Campbell Boulevard location. In addition, customers may pay their bill at any of our authorized bill collection agents or choose from the following convenient bill payment options.
Authorized Collection Agents (all Clarksville locations) «Read the rest of this article»
Fort Campbell – The United States Court of Appeals for the Armed Forces will convene Nov. 4 at Fort Campbell to hear appellate arguments in the case of United States v. Cowgill at 3 p.m. in the 101st Division Headquarters Building. The hearing is open to the public.
The case involves an Air Force staff sergeant who is appealing his conviction for using marijuana and cocaine and possessing marijuana. At the conclusion of his court-martial, Staff Sgt. James Cowgill was sentenced to two months confinement, a reduction in pay grade to E-1 and a bad conduct discharge.
The issue before the court is whether the military judge improperly denied Cowgill's motion to suppress all evidence seized from his house. «Read the rest of this article»
Could President Barack Obama be considered as a politician with socialist tendencies? That's what an Austin Peay State University political science professor will ask the audience to discuss at an upcoming session of APSU's 2009-10 Library Athenaeum program.
Dr. Matt Kenney, associate professor of political science, will present "Obama the Socialist!" at 2 p.m., Tuesday, Nov. 3 on the second floor of Woodward Library. While APSU students are encouraged to attend, the event is free and open to the public.
Kenney first will encourage audience members to consider what it means for a U.S. president to act and govern in ways that might reasonably be characterized as socialist. Next, he will look at the unfolding presidency of Obama in light of the meanings of socialism that have been identified. Arguments for and against viewing Obama as a politician with socialist tendencies as well as policy goals will be discussed and debated. Questions from the audience will be invited. «Read the rest of this article»
The Soldiers of the 1st Brigade Combat Team, 101st Airborne Division are set to conduct a 10-day combined arms live fire exercise Nov. 1-10.
The objective of the training is to exercise company commanders' abilities to plan, integrate and control critical enablers into their mounted and dismounted maneuver operations.
The purpose of this type of training is to stress company commanders demonstrating proficiency in direct and indirect fire planning, rehearsals, back briefs, and execution of combined arms operations. Company commanders will become confident in troop leading procedures, mounted and dismounted maneuver, as well as, planning and integration of combat enablers such as combat observation lasing teams.
The Soldiers are conducting the training in order to provide them with pertinent realistic training to prepare them for possible contingency operations.
Austin Peay def. Morehead State, 3-1 (22-25, 25-19, 25-14, 24-23)


MOREHEAD, Ky. – Austin Peay State University's volleyball team got its five-match road trip off to a good start, posting a 3-1 (22-25, 25-19, 25-14, 25-23) Ohio Valley Conference victory against Morehead State, Friday night, at Wetherby Gymnasium.
Austin Peay (18-6, 11-2 OVC) got off to a slow start offensively, recording just 12 kills while committing seven attack errors in the first set. Morehead State had no such troubles, posting 18 kills against eight errors. The Lady Govs led the opening set, 8-4, before surrendering six straight points – including three straight courtesy attack miscues. The Eagles held that lead throughout the set and won 25-22.
The Lady Govs controlled sets two and three nearly wire-to-wire. The second set in particular was an impressive display of Austin Peay's offense as it recorded 17 kills and committed no errors (.486 attack percentage) and rolled to a 25-19 win. The third set saw the Lady Govs offense cool, recording 12 kills and a .310 attack percentage. Morehead State helped APSU's cause, committing five attack errors and four service errors as the Lady Govs won 25-14. «Read the rest of this article»


Austin Peay State University has been picked to finish third in a preseason Ohio Valley Conference poll of league coaches and sports information directors. In addition, senior guard Wesley Channels has been voted preseason All-OVC.
That was announced Thursday in a basketball preseason media-day teleconference.
The Governors, who finished tied for second in the OVC a year ago at 13-5 and lost in the league tourney championship game, received 114 points, leaving them behind league co-favorites Morehead State and Murray State, which not only received 10 first-place votes each but finished with 154 points as well.
Austin Peay has had tremendous success in the league over the last decade, including advancing to the OVC Tournament Championship game in six of the last seven seasons. The Governors claimed that crown in 2008 but came up just short in 2007 (1-point loss) and a year ago (2-point loss in double overtime). «Read the rest of this article»
This Saturday, Austin Peay State University will welcome home some of the talented artists who honed their skills inside the Trahern Building.
From 11 a.m. to 4 p.m., the building's gallery will feature an Art Alumni Exhibition to correspond with the University's Homecoming festivities. Former APSU art students will return to campus that afternoon to present innovative new works for this show.
The event, sponsored by the Center of Excellence for the Creative Arts and the APSU Department of Art, will also include an outdoor reception on the front lawn of the Trahern Building.
The exhibition and reception are free and open to the public, and all APSU alumni are encouraged to stop by Trahern. For more information, contact the art department at 931-221-7333.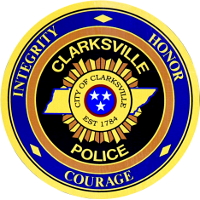 Clarksville Police Department's officers will be out in abundance in an effort to ensure Trick-or-Treaters, as well as those celebrating the fall tradition of Halloween, have a safe and enjoyable time. Officers will be focusing on patrolling the streets through your neighborhoods and on the roadways around Clarksville on Halloween.
Halloween should be a fun time for all involved. But, unfortunately it can also be a dangerous and deadly time due to impaired driving. According to the National Highway Traffic Safety Administration, Halloween is a particularly deadly night due to drunk drivers. In 2008, 58 percent of all highway fatalities across the nation on Halloween night (6 p.m. Oct 31 to 5:59 am Nov 1) involved a driver or a motorcycle rider with a Blood Alcohol Concentration of .08 or higher which is illegal in every state. Halloween is falling on a Saturday this year and we don't want revelers taking the party to the roadways, putting trick-or-treaters and responsible motorists at risk. State and local law enforcement will out in full force cracking down on drunk drivers with an aggressive Drunk Driving, Over the Limit, Under Arrest enforcement blitz. Clarksville Police Department will have six additional officers on duty, Friday and Saturday night from 10 pm-4 am, performing saturation patrols looking for impaired driving (partially funded by the Governor Highway Safety Office)
For a safer Halloween weekend, the Clarksville Police Department recommends these simple tips: «Read the rest of this article»
State Fire Marshal offers daylight saving time reminder
NASHVILLE – Tennessee State Fire Marshal Leslie A. Newman is reminding Tennesseans to change their smoke alarms' batteries this weekend when they set back their clocks late Saturday night for daylight saving time.
"Smoke alarms, even those that are hard-wired, should have their batteries replaced regularly and should be tested monthly to ensure they're providing the proper protection," says Tennessee State Fire Marshal Leslie A. Newman. "Use the extra hour we gain this weekend to make sure your home and family are fire-safe." «Read the rest of this article»