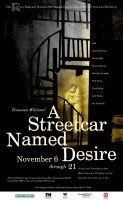 This Friday, November 6, the Roxy Regional Theatre welcomes the opening of Tennessee Williams' Pulitzer Prize-winning classic set in 1940's New Orleans, A STREETCAR NAMED DESIRE, with our regular pay-what-you-can night.  Tickets go on sale at 7:30pm for whatever you wish to pay; curtain is at 8pm.
This production stars Justin Barnum as Stanley Kowalski and Alicia Kelly as Blanche DuBois, with Chase Kamata (Stella), Brendan Cataldo (Mitch), Linda Speir (Eunice), Phil Perry (Steve), Jay Doolittle (Doctor) and Judi Sinks (Nurse). Webb Booth, Hugh Poland and Jacob Ritchart play newsboys.
A STREETCAR NAMED DESIRE runs through November 21, playing Wednesdays and Thursdays at 7pm and Fridays and Saturdays at 8pm, with a 2pm matinee on Saturday, November 14.  Regular priced tickets are $15 (adults) and $10 (ages 13 and under), and may be purchased online at www.roxyregionaltheatre.org, by phone at (931) 645-7699 during regular box office hours (9am-2pm, weekdays), or at the theatre.
Due to strong language and sexual content, this production is rated "M" for mature audiences.